Get ready for a Fed rate hike -- in 2012?
NEW YORK (CNNMoney.com) -- If you believe a schlocky Hollywood blockbuster from last year starring John Cusack, the world may come to an end in 2012.
And if you believe a growing chorus of economic experts, that may be just about the time the Federal Reserve is finally set to raise interest rates again.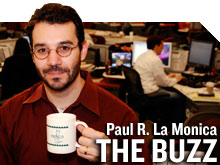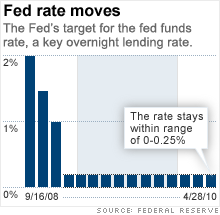 "The outlook for when rates will go up keeps getting pushed out," said Keith Hembre, chief economist with First American Funds in Minneapolis. "I'd be shocked if they raised rates this year. Something would have to dramatically change for that to happen."
He thinks the Fed is unlikely to raise rates until the middle of next year at the earliest and does not rule out the Fed standing pat until 2012.
That's a big change from just a few months ago. Before Europe blew up, most experts thought a rate hike was likely by no later than year's end. Some thought the Fed could tighten this summer.
But Fed chief Ben Bernanke has continued to stress that while he thinks the economy is improving, the recovery is so tenuous that it behooves the Fed to keep rates low.
The debt crisis in Europe, more market volatility and continued concerns about the high unemployment rate in the U.S. give the Fed wiggle room to keep rates near zero for the rest of this year and maybe even through 2011 as well.
Hembre said that the job market is the key. He argued that as long as unemployment remains high, there will be little pressure on companies to boost wages. Labor costs are by and large the biggest factor when it comes to inflation.
So as long as there is little threat of inflation, the Fed can justify keeping rates near zero, Hembre said.
John Derrick, director of research for U.S. Global Investors, a San Antonio-based money manager, agreed. He said that with many local and state governments taking austerity-like measures to close budget gaps, that could cause a significant drag on economic growth.
"There is no need for the Fed to raise rates soon. It could easily wait until 2011 or beyond," Derrick said. "Local and state government budget cuts are the big wild card. That could make it more difficult for the economy to keep growing."
But not everyone thinks the Fed should stay stuck on zero throughout this year and next. After all, rates have now been near zero since December 2008. Would it really be prudent to keep rates that low for more than two years?
Some Fed members are worried that low rates could feed inflation pressures and create new asset bubbles.
That appears to be the main reason why Kansas City Fed president Thomas Hoenig, who is a voting member on the Fed's monetary policy committee this year, has argued for the central bank to raise rates to 1% this summer.
Hoenig's arguably the most hawkish of the Fed members but he's not the only one warning of the dangers of keeping rates too low for too long.
Atlanta Federal Reserve president Dennis Lockhart, who does not have a vote on interest rate policy this year, said in a speech last week that rates "may have to begin to rise even while unemployment is considerably higher than before the recession."
The biggest risk of keeping rates at zero indefinitely -- even if inflation is not yet present -- is that companies and investors may get spoiled by easy money.
"When you keep rates at zero, it's overly tempting for businesses to use finance with short-term debt instead of long-term capital. That's very risky because you have to keep rolling it over," said James Angel, associate professor of finance at the McDonough School of Business at Georgetown University in Washington, D.C.
Angel added that the Fed has made the mistake of waiting too long to boost rates before. Even though it may not be popular with politicians or Wall Street to raise rates sooner than later, the smart move is to act before it's obvious the economy's back on track.
"The real challenge is raising rates when the time is right. Bernanke will need to do so long before the economy is perceived to be humming along," he said.
Pierre Lapointe, global macro strategist with Brockhouse Cooper, a brokerage firm in Montreal, shared that view. And he argues that the Fed needs to be less concerned about the short-term reaction from the markets.
He said that a rate hike is actually a sign of confidence and that investors need to realize that as long as the Fed boosts rates gradually, it's not going to send the economy into a tailspin.
"The reasons why the Fed lowered rates in the first place (credit crisis and recession) are not present anymore. Removing your foot from the accelerator is not the same as stomping on the brakes," said Lapointe.
"Investors should not be especially afraid of the first rate hikes. To us, the first rate hikes should simply be considered as evidence that the economy is thriving," he added.
Of course, there's the rub. Few believe the economy is thriving just yet. The Fed obviously doesn't think so and neither does the bond market.
So even though the Fed probably needs to start thinking about finally raising rates this year, don't count on Bernanke putting on his hiking boots until sometime in 2011.
- The opinions expressed in this commentary are solely those of Paul R. La Monica.