Making a surprise early retirement work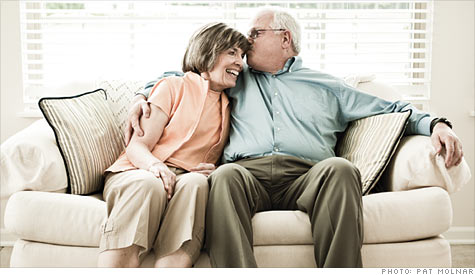 (Money Magazine) -- For years, Pat and George Breault gave little thought to their spending. The couple, both IT project managers, earned a handsome $235,000 a year -- more than enough to cover their basic living expenses as well as the extra-curriculars they enjoyed, such as dining out, taking cruises, and entertaining at their second home, a condo at Catawba Island on the shores of Lake Erie in Ohio, where they hoped to retire one day.
"We really never talked about retirement," says Pat. "We were both entrenched in our jobs and working all the time."
That changed last summer when Pat's $105,000-a-year position was eliminated. After a six-month job search came up empty, the Breaults knew they had to do something dramatic to offset the lost income. So they sold the four-bedroom colonial where they'd lived for 20 years and raised their sons (now 24 and 28) and rented a condo near George's job in Dearborn, Mich., cutting their housing costs in half.
With the immediate financial pressure off, Pat lost the yen to work, especially after months of job hunting yielded no leads. In fact, early retirement started looking more attractive -- and George decided he'd like to pack it in soon too.
Trouble is, the Breaults didn't plan for an early retirement. Certainly, they have some assets to work with. They're both entitled to pensions (a combined $50,000 a year before taxes if George works until next summer), and they've saved $550,000 in their 401(k)s.

Also in their favor: The couple have no debt besides a $192,000 mortgage on their condo, and George's retiree health benefits will cover them until they're eligible for Medicare.
Is that enough? The couple estimate they need about $48,000 a year after taxes to cover basic expenses, such as the payments on their condo, health care, and food -- an amount they can handle from their pensions and Social Security.

But that doesn't take into account the luxuries they're fond of -- such as the $12,000 a year they spend on dining out, $9,600 a year on clothing and hobbies, and $4,800 on golf. They'd also like to travel more. "There's no room for fluff," says Pat.
While it's likely that Pat can comfortably stop looking for work, two early retirements may be a stretch for the couple, says Scott Barbee, a financial planner in Cincinnati. Being flexible about their plans and lifestyle will be key, says New York City financial planner Dawn Brown. She and Barbee suggest the following tactics.
The fixes
1. Don't grab that gold watch yet
The surest way for the Breaults to maintain their lifestyle in retirement without running out of money is for George to work longer. Can't wait until 65? Even working one extra year or part-time would help. He'll end up with a bigger pension and can keep contributing to his 401(k); plus, the couple won't have to tap savings while he's drawing a salary.
2. Get more aggressive
The couple have their savings evenly split between large-cap stocks and bonds. But the returns on that mix will barely stay ahead of inflation, says Barbee. If the Breaults can commit to postponing tapping their 401(k)s for a while, they can afford to switch to a 60/40 stock-to-bond mix, which should earn about 5% a year, Brown estimates.
3. Tighten those belts
If George quits next year and the Breaults keep spending at their current rate, there's only a 79% chance their assets will last their lifetimes -- even with a more aggressive portfolio, Brown calculates. Lopping $12,000 a year off their budget raises that probability to 88%. Brown suggests cutting back on dining out; spending less on clothes and hobbies would help too.
Do you need money help? Post your video on iReport and tell us why you deserve our next Money makeover