Battling back after business drops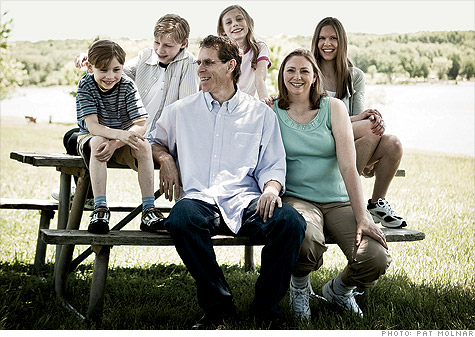 (Money Magazine) -- When Joe Phillips was 22, he asked a cute girl named Heather to a Psychedelic Furs concert but stood her up at the last minute -- he had second thoughts about dating a girl who was only 16 and his boss's daughter. Joe and Heather laugh about it now: They got married eight years later, and Joe climbed the ranks in his father-in-law's architectural firm while Heather focused on their four children.
As business boomed during the '90s, the Phillipses' income rose to $145,000, and they bought a five-bedroom vacation house on Maryland's Eastern Shore for $90,000. Heather's father also agreed to sell the company to Joe over a 15-year period.
But the recession hit the Phillipses hard. Joe's income plunged, dropping below $100,000 in 2008 before rebounding a bit to $108,000 last year. This year, though, has been tough again. February and March were especially brutal, with Joe's usual monthly take-home pay of $8,000 falling to just $2,000. Their savings have dwindled from $64,000 to $14,000, and the couple have stopped saving for retirement and college and making their buyout payments.
Adding to their financial woes: Joe's habit of paying himself only after covering his employees' salaries, and his reluctance to lay off workers. "They have families to support too," says Joe.
To ease the financial strain, Joe and Heather recently cashed in a whole life insurance policy worth $48,000. They know they'd get back on solid ground if they sold their vacation home, now worth about $350,000 -- but they consider that a last resort. "I would hate you if you sold it!" 14-year-old Catalyn told her mom.
Fortunately, business has started to pick up again; Joe expects the firm to have 60 projects in 2010 vs. 40 last year, though it's hard to tell if the uptick will last. But even assuming he earns enough to cover the family's basic bills, with only $144,000 saved for retirement and $16,000 for college, the Phillipses feel terribly behind.
The fixes
Making up the ground they've lost without selling their beloved vacation home is certainly doable -- but not without tradeoffs, agree financial planners Patrick Collins of Towson, Md., who specializes in advising small-business owners, and Martha Schilling in nearby Upper Dublin, Pa. For instance, the couple will probably have to put college savings on hold. That's okay with the Phillipses. Says Heather: "We know there are no easy answers."
1. Pay yourself first
Joe is making a mistake common among small-business owners, says Collins, by paying himself last. Instead, he should pay himself the same salary he would pay someone else to do his job. If that creates red ink, he may have to lay someone off. "If you can't pay your own personal bills, that's a road to ruin," says Collins. "As hard as it is to let good people go, you've got to do it."
2. Beef up the emergency fund
After selling the whole life policy, the Phillipses have nearly eight months' worth of living expenses in the bank. But small-biz owners with fluctuating income should have 12 to 18 months' worth, Schilling says, to smooth out cash flow and cover unplanned expenses. As business profits pick up, every extra dollar should go into the emergency fund.
3. Plan to restart retirement savings
As soon as the family's emergency fund has been replenished, Joe should go back to contributing to his 401(k). The goal: to add a minimum of $10,000 a year to his retirement savings. Even so, to retire comfortably when Joe hits 65, he and Heather will probably need to sell the business and one of their two homes to plump up their nest egg.
Do you need money help? Post your video on iReport and tell us why you deserve our next Money makeover.
Do you have an 800-plus credit score? Or have you pulled your score up past 700 after a financial setback? If you'd like to talk about it for an upcoming issue of MONEY magazine, send your name, age, phone number and a few details about your story to imangla@moneymail.com.