10-year Treasury yield below 3%
NEW YORK (CNNMoney.com) -- Treasury prices continued to surge Tuesday, pushing the 2-year note's yield to a record low and the 10-year note's yield below 3% for the first time since April 2009, as the looming expiration of Europe's bank lending program boosted demand for the safety of government debt.
What prices are doing: The benchmark 10-year note jumped 19/32 to 104-21/32 and its yield sank to 2.96% from 3.03% on Monday. Bond prices and yields move in opposite directions.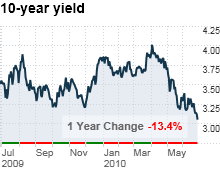 The 30-year bond climbed 1-10/32 to 107-26/32 with a yield of 3.93%. The 2-year note gained 2/32 to 100-2/32 and its yield was 0.61%. Earlier, the 2-year note's yield fell to 0.59%, a record low.
What's moving the market: The European Central Bank's year-long lending program to boost liquidity expires Thursday. As banks in the euro zone gear up to pay back €442 billion, investors are nervous that end of the program could further rock the financial system.
The mounting fears are pressuring the euro and world markets, and increasing the appeal of safe-haven assets including Treasurys.
Because Treasurys are backed by the U.S. government, they are viewed as low-risk investments and are attractive during times of economic uncertainty.
What analysts are saying: "Treasury rates this low typically signal a real slowdown in economic activity, or even a recession," said Peter Cardillo, chief market strategist at Avalon Partners. "But I think this is a heightened fear factor and a flight to quality as opposed to any real economic meltdown."
He added that investors are concerned that when banks pay back the loans, the market will face another credit crunch.
"The market is now set for a major reversal that could happen at any time," he said. "But if this grossly exaggerated fear factor continues, yields could go lower."