Manhattan housing on the rebound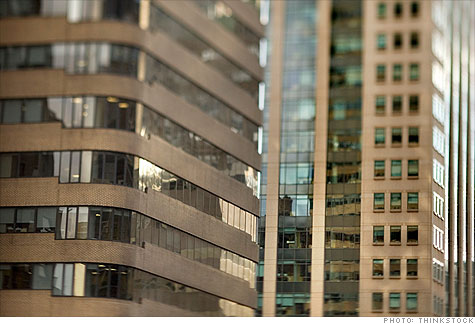 NEW YORK (CNNMoney.com) -- Manhattan home prices held steady during the second quarter of 2010 but transactions were 81% higher than this time last year, according to several real estate market reports released Thursday.
There were more than 2,700 sales during the three months ended June 30, according to one report, which is average in a normal real estate market but up significantly from the 1,500 sales during the second quarter of 2009.
Manhattan is the nation's most expensive large housing market. A two-bedroom, 1,250-square-foot condo apartment would cost about $400,000 in San Francisco, $250,000 in Los Angeles, $130,000 in Dallas and $100,000 in Miami. But in most of Manhattan, buyers are looking at $1.2 million or so.
That did not change much during the housing bust. The median home price in Manhattan fell about 20% from its peak, according to Greg Heym, a housing market economist who calculates market statistics for two of New York's biggest brokers. And that is a lot less than bubble markets such as Miami, Phoenix and Las Vegas, where prices were slashed by half or more.
"And we've already gotten close to 10% of that back," Heym said.
Indeed, Heym's latest Manhattan market report for brokers Brown Harris Stevens and Halstead reveals a continued pattern of a stabilizing Manhattan market. And surveys from the Corcoran Group and Prudential Douglas Elliman, two other premiere brokerages, concur.
"There's no big news on prices," said Pam Liebman, Corcoran's CEO. "The news is that there are a lot of buyers. We're very happy seeing so much absorption [of inventory]."
The median sale price for a condominium or cooperative apartment in Manhattan was nearly $900,000, according to Prudential Douglas Elliman, more than the $843,000 calculated by Halstead and Brown Harris Stevens, and $810,000 posted by Corcoran.
These prices were either flat year-over-year (Corcoran) or up 7.6% (Prudential) or 6% (Brown and Halstead), compared with the second quarter of 2009. They were either down 1% (Corcoran) from the first quarter of 2010 or up 3.6% (Prudential) or 2.8% (Brown and Halstead).
The median price statistics may be a bit deceptive, according to Jonathan Miller, of the noted New York appraisal firm Miller Samuel, which calculates prices for Prudential. He said the number of high-end apartments sold has grown disproportionately, which pulled up the median price.
"The market share for three-bedroom apartments, for example, increased to 18% from 12% a year earlier," said Miller.
The trend to more sales of larger apartments is evident in inventory statistics as well. The supply of big, luxury apartments fell 13% while inventory of the rest of the market rose slightly.
That happened even though lenders are not making it any easier for buyers of expensive homes to get loans. Miller said there has been no relaxing of strict underwriting standards in the jumbo loan market, mortgages for more than $729,750.
Consequently, many of the well-heeled luxury homebuyers are foregoing mortgages entirely. Liebman she said a large percentage of her agents report that at least half their buyers are paying all cash.
"It's the highest amount of cash transactions I've ever seen," added Miller.
What has helped keep the local market strong has been a rebound in the financial services industry, the big town's biggest economic driver.
"They're hiring again on Wall Street," said Heym, "and overall unemployment has fallen every month this year."
Demand for housing figures to remain strong. The work force for all of New York City has swelled to more than 4 million for the first time, and many of those workers aspire to live in Manhattan.
And, with the precipitous drop in crime over the past 20 years, families have returned to the city with a vengeance: It seems nearly impossible at times to walk down any west side avenue without tripping over a stroller.
"In earlier recessions, what happened is that many people left the city," said Heym. "But the efforts to improve the quality of life here, better schools, less crime, have led people to stay."