Smart cars in any color you want... really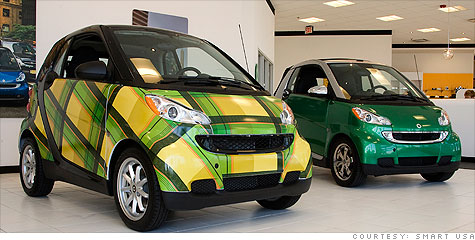 NEW YORK (CNNMoney.com) -- Smart USA, the company that sells the ultra-small Smart ForTwo, is now offering customers the option to choose to have their car painted any color they choose.
Seriously. Any color. They mean it.
Red, blue, green, fuchsia, burnt sienna, cyan, lavender, turquoise with a hint of gold, plaid... you name it.
Customers will still be able to choose one of Smart's six basic colors at no additional cost but, for $1,550 more, they can choose from a palette of 93 other colors as part of the brand's "smartExpressions" offer.
If none of those 93 shades quite does it for you, there's the less cleverly named "Any Color You Want" program. The name says what it means.
Bring in a sample of the shade you're after and Smart will try to match it. In this case, pricing depends on the color.
The program is made possible by the Smart Fortwo's unusual construction -- which involves easily removable body panels -- and a partnership with the automotive paint supplier PPG.
The body panels will be painted at a remote location then sent to the dealer for installation. People who already own one of the cars can also take advantage of the program.
Patterns and designs, like plaid, are possible through a process of "wrapping" the panels, or coating them with a 3M vinyl film that adheres to the panels. For now, buyers will have to select from pre-designed patterns but soon, Smart says, they'll be able to create any pattern they choose. Wrap prices start at $1,350.
The Smart ForTwo has been on sale in the United States since 2008. Despite fuel economy over 40 miles per gallon on the highway, Smart sales have plummeted in recent years. So far in 2010, sales are running more than 60% below 2009, which was one of the auto industry's worst sales years.
The two-seat ForTwo is powered by a 3-cylinder engine. It's designed to be about as long as most other cars are wide, allowing it to be parked nose-to-the-curb in a typical parallel parking space.