Goldman earnings take a tumble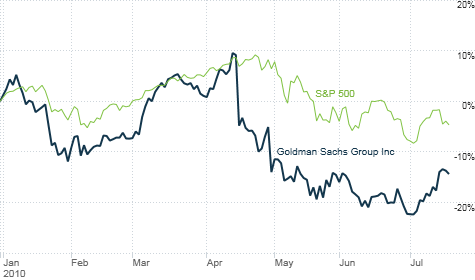 NEW YORK (CNNMoney.com) -- Goldman Sachs' profit tumbled 82% in the latest quarter, the company said Tuesday, as market turbulence and a recent settlement with the Securities and Exchange Commission kept a lid on results.
Overall, it represented one of the worst performances for the firm since the financial crisis erupted, as the company also took a charge related to the British government's tax on Goldman's U.K.-based employees.
The biggest hit was a 40% decline in revenue from trading, hurt by wild market swings May and June.
Other parts of the company's business didn't fare well either. Goldman's traditional investment banking business reported a 36% decline in revenue, as overall stock and debt underwriting activity dried up.
Sales activity declined in Goldman's asset management and securities services business, although to a smaller extent.
"The market environment became more difficult during the second quarter and, as a result, client activity across our businesses declined," company chairman and CEO Lloyd Blankfein said in a statement.
Offsetting those declines was a reduction in the amount of money Goldman set aside to pay its famously large employee bonuses at year end. During the quarter, Goldman accrued just $3.8 billion, down from $6.6 billion a year earlier. Staffing levels at the firm rose during the quarter however, as the company added approximately 1,000 employees.
Overall, the company said it earned $613 million, or 78 cents a share, for the quarter, after taking into account the various charges. Just a year earlier, it earned $3.4 billion, or $4.93 a share.
Analysts were expecting the company to earn $1.3 billion, or $2.08 per share, according to Thomson Reuters.
Goldman (GS, Fortune 500) shares were roughly unchanged on Tuesday.
The company's latest results come just days after Goldman agreed to pay $550 million to settle the SEC's charges that the firm defrauded investors in a sale of securities tied to subprime mortgages.
David Viniar, Goldman Sachs' chief financial officer, was grilled by both reporters and analysts Tuesday for additional details on the agreement.
Viniar declined to elaborate on how the two parties reached the settlement figure or whether the company was still legally vulnerable.
Some have suspected that Goldman may have pushed for terms in its agreement with the SEC that shielded the firm from any additional mortgage-related suits brought by the agency. There have also been speculation that the company's dealings have been under examination by the Department of Justice.
"We are not aware of any criminal investigation of Goldman Sachs," Viniar said Tuesday.
He also remained mum on the fate of Fabrice Tourre, the lone Goldman employee implicated in the government suit. Late Monday, attorneys for Tourre petitioned a federal district court judge to dismiss fraud charges that were brought against him by the SEC.
On more than one occasion, Viniar downplayed the impact the SEC suit has had on particular parts of its business.
Since the suit was first announced in April, Goldman has continued to handle numerous high-profile deals, including the tie-up between Continental Airlines (CAL, Fortune 500) and UAL Corp.'s (UAL) United Airlines, as well as the initial public offering of electric car maker Tesla Motors (TSLA) last month.
Viniar also faced questions about the impact of forthcoming legislation for Wall Street. President Obama is scheduled to sign the bill into law on Wednesday.
Some analysts have suggested that Goldman could be among the firms hardest hit by changes to derivatives trading and the so-called "Volcker rule," which would limit how much banks can invest in private equity and hedge funds.
Viniar cautioned however it was far too early to begin forecasting the impact of the new bill, noting it would be at least another 15 months before regulators put firm rules in place. There have been questions, for example, about how regulators will define the practice of activities such as "proprietary trading."
"It would really be impossible for us to do now," he said.