Hidden signs of life in the economy
NEW YORK (CNNMoney.com) -- If the economy is a three-legged stool, people could take comfort in the fact that even though two of those legs (the government and consumers) are wobbly, the third (businesses) is still holding steady.
But do we have to rethink that premise? Durable goods orders, a key gauge of manufacturing demand, took a surprisingly steep stumble in June. Orders fell 1% last month. Economists were predicting a 1% increase.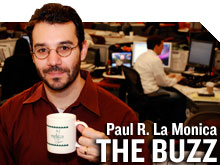 That could be a troubling sign, especially when you also consider that Boeing reported disappointing sales Wednesday morning. Revenues fell 12% from a year ago in its commercial aircraft unit.
Shares of Boeing (BA, Fortune 500), along with companies like Caterpillar (CAT, Fortune 500) and DuPont (DD, Fortune 500), have been among the market's leaders this year as investors bet that corporations would continue to have healthy demand for big-ticket items like Boeing's jet planes, Caterpillar's tractors and home construction material such as DuPont's Tyvek.
Stocks dipped Wednesday following the release of the durable goods report, but some economists were quick to dismiss the headlines about manufacturing weakness as being overblown.
If you dig deeper into the durable goods report, there are some bright spots. While it's true that overall demand fell for so-called durable items, goods that are expected to last for several years, much of the drop can be blamed on a staggering 25.6% plunge in new orders for nondefense aircraft.
But another subcategory of the report -- new orders for nondefense capital goods such as computers, electrical equipment and communications equipment -- actually jumped 0.6% in June. Many economists think the capital goods number is a better gauge of business spending than the headline number.
"Commercial aircraft numbers are notoriously volatile. If you want an indication of what companies are really doing, you have to look at the capital orders excluding aircraft," said Ross DeVol, executive director of economic research at the Milken Institute, a think tank in Santa Monica, Calif.
DeVol said that the increase in capital goods spending is encouraging because it shows that businesses are not really entering a retrenchment mode. But he's worried that could change if people keep mistaking what he thinks is a modest, gradual recovery for a double-dip recession.
"We're not going to see a big snapback in the economy but there's been a great deal of too much gloom and doom," he said. "One of my biggest concerns is that we talk ourselves out of recovery and businesses could pull back if we don't realize that the economy is slowly healing itself."
But Joe LaVorgna, chief U.S. economist with Deutsche Bank In New York, said that he does not think that will happen. He argues that since businesses are still spending on high-tech items, they will have to hire more people or else the spending may be a waste.
"Where are the workers? You can't invest in all this capital and not have people to use it. I still argue it's coming. That should happen eventually but we have been waiting a long time for eventually," he said.
And that's the big problem. With so much uncertainty facing the economy, businesses still appear to be wary. So the decision to hire keeps getting pushed out.
The good news obviously is that businesses can afford to hire more since many are sitting on Mount Everest-sized piles of cash. But the bad news is that they are doing their best impersonation of Herman Melville's Bartleby, "They would prefer not to."
So once companies are ready to hire again, that might be enough to restore consumer confidence.
"The consumer is not in a position to lead the recovery but once we get some job and income growth, we could find that consumers will go out and purchase more," said DeVol.
Matt Lloyd, chief investment strategist at Advisors Asset Management Monument, Colo., agreed that this needs to happen but said it may take awhile before businesses pass the baton to consumers.
He said that the economy is now in a tough transition phase from recession to recovery, and that the market's reaction to the durable goods report is proof that investors are still confused and pessimistic.
It's going to be a bumpy ride with plenty of fits and starts. That's why I've been calling it the barbecue recovery -- low and slow -- in recent columns.
Simply put, the painful memories of the Great Recession are still too fresh. That makes it harder for individuals, whether you're a CEO or average consumer, to dig past bearish headlines for signs of hope.
"If you've been looking for a flood, at the first sign of a raindrop you are going to build an ark. But who could blame people for thinking that way?" Lloyd said.
- The opinions expressed in this commentary are solely those of Paul R. La Monica. Other than Time Warner, the parent of CNNMoney.com, La Monica does not own positions in any individual stocks.