Apple may soon be worth more than Exxon
NEW YORK (CNNMoney.com) -- Better watch your back Exxon Mobil.
No, I'm not talking about tough competition for the oil giant from rivals like Chevron, Royal Dutch Shell and ConocoPhilips.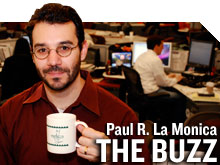 Exxon Mobil (XOM, Fortune 500), which is currently the most valuable company in the U.S. with a market capitalization of $286 billion, has to listen for the footsteps of Apple.
Of course, Apple (AAPL, Fortune 500) doesn't compete with Exxon Mobil -- although given time I'm sure that someone will find a way to create an app that turns your iPhone into an oil rig.
But Apple now is the second most valuable company in the land. It has passed Microsoft (MSFT, Fortune 500) and Wal-Mart (WMT, Fortune 500) this year and now trails Exxon Mobil's market value by only about $50 billion.
That may sound like a whopping gap but it really isn't -- especially given how well Apple has done compared to Exxon Mobil lately. Consider this: At the start of the year, Apple's market value was nearly $125 billion lower than Exxon Mobil's.
Apple shares currently trade at about $260. Many analysts think that a price of $300, a 15% jump from here, is reasonable given that Apple's got strong sales and earnings momentum on its side.
If that happened, all it would take is for Exxon Mobil's stock to fall about 5% from current levels for Apple to leap ahead of it in market value.
That also seems like a rational proposition since it's tough to imagine oil prices heading substantially higher in the near future as the economic recovery appears to be stalling.
And despite the fact that Exxon Mobil just reported that profits in the second quarter nearly doubled, the stock is relatively flat Thursday as sales missed forecasts.
But what would it mean if Apple topped Exxon Mobil? Is it evidence of a tech bubble the way it was back in 2000 when Cisco Systems (CSCO, Fortune 500) briefly was worth more than half a trillion dollars?
Some fund managers that own both stocks say that's not the case.
"It's possible that Apple could pass Exxon because Apple has the momentum. It is clicking on all cylinders and the market's recognizing that while the oil sector's in a funk," said Ted Parrish, co-manager of the Kennesaw, Ga.-based Henssler Equity fund, which owns shares of both companies. "It's not a sign of overexuberance."
Parrish added that if Apple does wind up taking the lead, it may not hold on to it for long. He said that shares of Exxon Mobil could recover if oil prices hold steady.
What's more, he thinks the company is in good position to take advantage of the BP (BP) fire sales as that beleaguered oil giant looks to sell assets to cover costs tied to the Gulf oil spill.
"I wouldn't count out Exxon. At a time when BP is getting killed, Exxon may have the ability to acquire some assets on the cheap," he said.
Another money manager that owns both stocks agreed that Exxon Mobil is likely to not fall that much further from where it's trading now.
Craig Hodges, president of Hodges Capital Management in Dallas, said he thinks both stocks look attractive. Nonetheless, he conceded that Apple could eventually take the top spot from Exxon Mobil in the market value race.
But like Parrish, he argued that Apple jumping ahead of Exxon Mobil shouldn't be treated as that much of a watershed event. He said it was more meaningful when Apple leaped past some of its technology rivals this year.
"Apple's a retail tech company and Exxon is in energy. They're not related. Apple beating Microsoft is more significant because it shows that tech companies relying on the consumer are doing better than ones that depend on business spending," he said.
That's a valid point. Nonetheless, I think that if Apple were to surpass Exxon Mobil, it would be very noteworthy.
It would hammer home the point that a company once known for being a mere niche maker of computers has become arguably the most important setter of consumer trends in the United States, if not the world.
It also might prompt the people who decide which companies are worthy of being in the Dow Jones industrial average to finally join the 21st century. Despite its market heft, Apple is still inexplicably not a member of the Dow Jones industrial average.
If Apple does move ahead of Exxon Mobil, it will be a lot harder to justify its exclusion from a barometer that the Web site for Dow Jones Indexes describes as "a clear, straightforward view of the stock market and, by extension, the U.S. economy."
- The opinions expressed in this commentary are solely those of Paul R. La Monica. Other than Time Warner, the parent of CNNMoney.com, La Monica does not own positions in any individual stocks.