Bulls brace for earnings hangover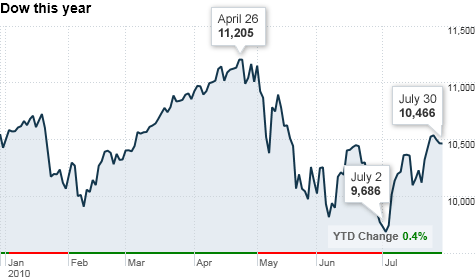 NEW YORK (CNNMoney.com) -- After a big rally in July, investors could be in for another bout of economic jitters this week as the focus shifts from earnings to the weak job market.
Stocks booked the best monthly gain in a year during July as investors cheered strong second-quarter results from an array of major U.S. companies. About 75% of the roughly 300 companies in the S&P 500 that have reported earnings so far have beat analysts' estimates.
But with relatively few top tier companies left to report earnings, the economic outlook is likely to set the tone for the market this week.
"As we get past earnings season it will be harder for the market to sustain the positive tone it has had over the last few weeks," said Bruce McCain, chief investment strategist at Key Private Bank.
As such, trading could be choppy in the early part of the week as investors gear up for the all-important monthly jobs report from the Labor Department on Friday. In addition, investors will take in government data on personal income and spending, as well as a key index of manufacturing activity.
"Without jobs it's difficult to have a robust economic recovery, and that will make it harder for the market to move significantly higher," said David Levy, a portfolio manager at Kenjol Capital.
Most economists expect the report to show that payrolls fell in July as the impact of temporary Census hiring continues to fade. But the market could rally if the number comes in better than expected or shows any improvement in private sector hiring, according to Alec Young, an equity analyst at Standard & Poor's.
"There's room for the market to move higher if jobs pick up," he said. "But earnings alone are not enough anymore."
Meanwhile, Treasury Secretary Tim Geithner will be in New York to discuss financial reform on Monday.
Concerns about tax policy may also weigh on the market as the debate heats up in Washington over the 2001 and 2003 Bush tax cuts, which are set to expire at the end of the year.
On the docket
Monday: Reports on manufacturing activity and construction spending are due out after the market opens.
The Institute for Supply Management's (ISM) index of U.S. manufacturing in July is expected to have dropped to 53.5 from 56.2 in June, according to economists surveyed by Briefing.com. A number above 50 indicates growth in the sector.
Separately, the government is expected to report that construction spending fell 1% in June after a 0.2% drop the month before.
Treasury Secretary Tim Geithner will discuss financial reform in a speech at New York University.
Tuesday: The government is due to report on June personal income and spending. Economists believe incomes rose 0.2% in the month, while spending is forecast to be up 0.1%.
A report on June factory orders comes out after the opening bell.
In addition, top auto makers will report July car and truck sales throughout the day.
Wednesday: Before the market opens, payroll processing firm ADP is expected to report that private sector employers added 30,000 jobs in July.
The Institute for Supply Management's index of activity in the service sector for July is expected to show little change when it is released after the opening bell.
The government's weekly oil inventory report is also due Wednesday.
Thursday: The Department of Labor releases weekly jobless claims figures in the morning. The number of Americans filing new claims for unemployment last week is expected to drop slightly to 455,000. Continuing claims, a measure of Americans who have been receiving benefits for a week or more, is expected to fall to 4.53 million.
Friday: The government's closely-watched jobs report is expected to show the U.S. economy lost 116,000 jobs in July after a decline of 125,000 jobs the month before. The unemployment rate is forecast to rise to 9.6% in the month from 9.5%.
Insurance giant AIG (AIG, Fortune 500) is also expected to post quarterly results at some point Friday.