Euro flies high...for now
NEW YORK (CNNMoney.com) -- If you were thinking of taking advantage of this year's rebound in the dollar to book that long overdue trip to Paris, you might want to reconsider.
The euro has shot up more than 10% against the greenback since hitting a 4-year low nearly two months ago. And with the euro now around $1.32, there is significantly less talk about how that currency is destined to achieve parity with the dollar in the not-so-distant future.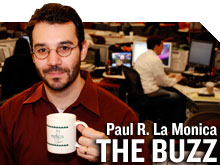 Whether or not the euro's rebound is just a short-term blip in what has been a painful slide over the past 9 months remains to be seen. But it might be a mistake to bet against the euro in the short-term.
The economic and earnings data coming from across the pond as of late seems to suggest that the worst may be over in that nasty little sovereign debt crisis.
Of course, the fiscal challenges facing the so-called PIIGS (Portugal, Italy, Ireland, Span and Greece) have yet to go away, but they no longer appear to be weighing the rest of the continent -- or the global financial markets for that matter -- like a lead balloon.
Several European banks have been reporting pleasantly surprising earnings in the past few weeks. The latest to do was British banking behemoth HSBC (HBC). That news helped lift stocks in the U.S. and around the world Monday.
What's more, the latest figures about the manufacturing sector in Europe were also promising. A purchasing managers index put out by financial data firm Markit Monday hit a three-month high, led by strong production growth in Germany, Italy and Spain.
"The rebound in Europe is far more resilient than people expected," said Brian Dolan, chief currency strategist with FOREX.com, in Bedminster, N.J.
So what's next for the euro and dollar? It's important to know for reasons other than planning your next vacation.
It's not a coincidence that the stock market's rise in July came at the expense of the dollar. Although there are concerns about slowing economic growth in the U.S., those fears appear to be offset by the fact that investors are no longer afraid that one of the PIIGS is likely to collapse.
"The sentiment about Europe was so pervasively negative. There still are some troubles going forward but people became overly pessimistic. For now, debt default seems to be off the table," said Mike O'Rourke, chief market strategist with BTIG, an institutional brokerage firm in New York.
That's obviously a good sign. But O'Rourke said the big euro rally may be over and that it may now stabilize or fall slightly.
Still, this Goldilocks scenario for currencies would actually be the perfect environment for investors, businesses and consumers. Here's why.
Several large U.S.-based multinational companies in the second quarter were hurt by exchange rate fluctuations because sales and profits from Europe were translated from weaker euros back to stronger dollars. So a more stable currency market would be welcome news.
The recent slide in the dollar also appears to be lifting oil prices, which are denominated in dollars.
With crude oil back above $80 a barrel, that may cause some worries about another energy shock-induced economic slowdown. But if the euro and dollar hold steady for the foreseeable future, that should keep a lid on oil prices.
Along those lines, Dolan said the euro could climb only another 3% or so, to about $1.36, before peaking against the dollar.
He added that there may be more evidence of weakness in Europe in the fourth quarter that could cause people to flock back to the dollar. Just as there was too much doom and gloom back in the spring about the euro, investors may now be too willing to conclude that the results of the European bank tests mean that there are no longer any risks to the European economy.
John Kosar, director of research with Asbury Research in Chicago, thinks the dollar is due for a bit of a bounce against the euro, but probably not a massive surge.
That's key. Kosar said that as long as the dollar doesn't go on a major tear against the euro, that might be further evidence that investors are getting used to the notion that the worst may be over for the economy and that the recovery, albeit a modest one, is for real.
So a mild dollar rally wouldn't be bad news. But if it roars back to life, it may be an ominous sign.
Keep in mind that the dollar was at its strongest this year when concerns about the PIIGS and another global slowdown were at a fever pitch. The dollar, along with gold and Treasury bonds, were benefiting from the save haven trade. They were the lesser of all evils in a time of turmoil.
"If the dollar really starts outperforming, that would take place amid a slowing economy. If money moves back into the dollar, it might be due to a fear of more trouble ahead," Kosar said.
- The opinions expressed in this commentary are solely those of Paul R. La Monica. Other than Time Warner, the parent of CNNMoney.com, La Monica does not own positions in any individual stocks.