Barnes & Noble puts itself up for sale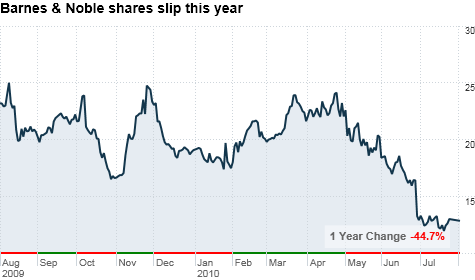 NEW YORK (CNNMoney.com) -- Shares of Barnes & Noble soared 26% in after-hours trading Tuesday after the bookseller put itself on the block.
The board of directors believes Barnes & Noble shares are "significantly undervalued," and has hired financial advisor Lazard to explore "strategic alternatives" that may include selling the company, Barnes & Noble said in a prepared statement.
Barnes & Noble (BKS, Fortune 500) founder Leonard Riggio, the company's largest shareholder, says he may join an investor group to buy the company.
"I fully support the board's decision to evaluate strategic alternatives at this time," Riggio said in the company's statement. "Regardless of whether I participate in an investment group that buys the company, I, as well as the entire senior management team, am willing and eager to remain with the company and see it through the challenging years ahead."
But the bookseller cautioned that a deal has not yet been sealed, and said it doesn't have a timeline for its review.
Barnes & Noble shares jumped $3.36, or 26%, to $16.20 after markets closed Tuesday. Over the past year, the company's share price has fallen 45%.
In its latest fiscal year, ended May 1, Barnes & Noble turned a profit of $36.7 million on sales of $5.8 billion. In 2009, the company acquired its former subsidiary Barnes & Noble College Booksellers and changed its fiscal year calendar, making a comparison against its 2009 sales difficult.
As of May 1, Barnes & Noble had 720 retail stores and 637 branded bookstores on college campuses.