Oil hovers at 3-month highs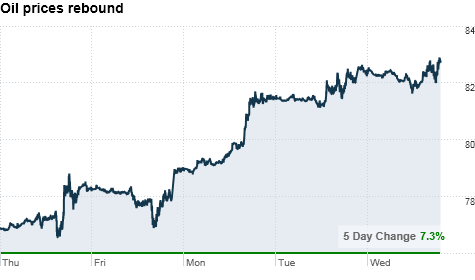 NEW YORK (CNNMoney.com) -- Oil prices are on an upswing this week, hovering at 3-month highs after surging past the $80-a-barrel mark on Monday.
Last week, prices drifted lower as ongoing worries about the pace of the economic recovery weighed on investors. But prices have turned around, rising more than 4% so far this week as some of these jitters ease.
Prices rallied to fresh 3-month highs on Monday and Tuesday and held steady Wednesday after an inventory report from the Energy Information Administration showed a bigger than expected drop in crude inventory.
"We've been up sharply this week, and it's the first time we've seen these highs since early May," said Mike Fitzpatrick, vice president of energy at MF Global. "The rally has kept its momentum based on the fact we've seen inventories drawn down, positive economic data, plus we couldn't really break any lower after last week."
The EIA said crude supplies fell by 2.8 million barrels last week, more than the 1.2 million-barrel drop expected by analysts, according to a consensus estimate collected by energy information provider Platts.
Gains were tempered, however, after the report showed that gasoline stocks rose 729,000 barrels, while analysts had forecast a decline of 870,000.
Prices have also been lifted by a weaker dollar, which has continued to weaken against the euro and the pound this week. Oil, like other commodities, is priced in dollars, so a weaker greenback boosts prices.
Meanwhile, stocks have seesawed, wavering as investors remain cautious ahead of the closely-watched jobs report due at the end of the week, which is expected to show that employers cut payrolls for a second straight month in July.
If the jobs report or any other economic data shakes investor confidence, oil prices are likely to slip from their current highs, said Fitzpatrick.
"It's going to be hard to sustain this rally given the fact that we are in such bad shape," he said. "I just don't know if the data we get will support the notion that the economy is turning around."