Dollar advances on global slowdown fears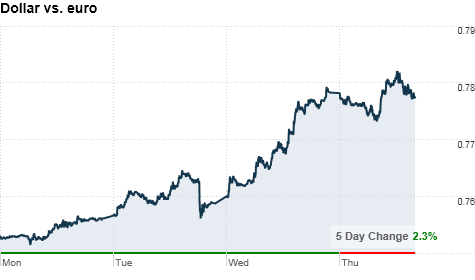 NEW YORK (CNNMoney.com) -- The dollar turned higher this week as jittery investors flocked to the greenback for its safe-haven appeal amid fears of a global economic slowdown.
For weeks, the dollar had been slipping as investors focused on weak U.S. economic news and improvements abroad. It is now making a comeback as disappointing news out of other regions join center stage.
Bleak outlooks from central banks in Europe, as well as signs of slower growth out of China, have rattled investors and boosted their demand for low-risk investments, including the dollar.
Softer risk appetite has pushed dollar up to a three-week high against the euro -- below $1.28 -- and the highest level this month against the pound. The dollar index, which tracks the buck against several major rivals, has climbed 3% this week.
Against the yen, also a low-risk currency, the dollar hit a 15-year low.
"It's come to the market's attention that the problems for recovery aren't just in the United States," said Kathy Lien, director of currency research at Global Forex Trading. "Everything is congealing at the same time."
Following the Federal Reserve's most bearish outlook for the U.S. economy in more than a year, the Bank of England and the European Central Bank also said recovery in the the United Kingdom and through Europe is also losing steam.
China reported industrial output slowed for the fifth consecutive month in July, signaling that growth in the world's third largest economy is continuing to ease.
"The United States and China, two of the largest contributors of economic growth, are slowing at the same time, and that could sap the global recovery over the next quarter," Lien said.
Though the dollar will push higher in the near term, Lien said it will resume a decline as fears abate.