Stocks headed for a lower open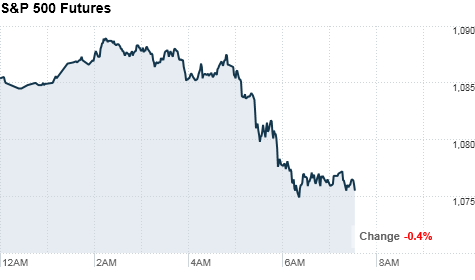 NEW YORK (CNNMoney.com) -- Stocks were headed for a modestly lower open, extending three consecutive days of decline, as investors digested mixed reports on retail sales and inflation.
Dow Jones industrial average (INDU), S&P 500 (SPX) and Nasdaq (COMP) futures were slightly lower. Futures measure current index values against perceived future performance.
Stocks closed lower for a third straight session Thursday, as investors digested an unexpected rise in jobless claims and Cisco Systems' cautious outlook.
"The market is focusing on the retail sales and consumer sentiment data, which go hand-in-hand and provide a clearer picture on the mood of consumers and how they're spending," said Peter Cardillo, chief market economist at Avalon Partners.
Cardillo said numbers that come in line with or above expectations could signal that the economy is stabilizing and reduce fears of a global slowdown, especially as Europe shows strong economic growth.
Economy: A report from the Commerce Department said that July retail sales rose 0.4%, slightly less than expected. Excluding auto sales, retail sales notched up 0.2%.
July retail sales were expected to rise 0.5%, according to a consensus estimate of economists from Briefing.com.
The Labor Department's July Consumer Price Index, a key measure of inflation, snapped a 3-month streak of declines and ticked up 0.3%. This was higher than the 0.2% gain that was expected by economists, according to Briefing.com consensus.
Core prices, which exclude volatile food and energy prices, rose 0.1%, as expected.
After the market opens, the University of Michigan Consumer Sentiment Index for early August is expected to edge up to 70 from 67.80.
A report on June business inventories is due later in the morning.
Companies: General Motors is expected to announce a stock offering as early as Friday to bring the company public again -- a day after the automaker said that it is getting its fourth CEO in just under 18 months.
GM said Ed Whitacre will leave the post Sept. 1, to be succeeded by another auto industry outsider, former Nextel Communications CEO Dan Akerson.
World markets: Markets in Asia ended mixed. The Shanghai Composite rallied 1.2%, while Japan's benchmark Nikkei index rose 0.4%. The Hang Seng in Hong Kong ended the day down 0.2%.
European shares rallied earlier in the morning following strong economic growth in the region, but fell back into negative territory later in the morning. Germany's DAX was down 0.9%, while the CAC 40 in France dropped 1%. The FTSE 100 in Britain turned down 0.6%.
The German economy, Europe's largest economy, grew at its fastest pace since reunification in 1990 in the second quarter of the year, up 2.2%. That helped the European Union expand its economy by 1% during the second quarter, the fastest pace since 2006.
Currencies and commodities: The dollar gained against the euro, the U.K. pound, but fell versus the Japanese yen.
Oil futures for September delivery edged up 4 cents to $75.78 a barrel.
Gold futures for December delivery rose $1.20 to $1,216 an ounce.
Bonds: Prices for Treasurys were higher. The yield on the 10-year note fell to 2.72% from 2.75% late Thursday. Bond prices and yields move in opposite directions.