Fertilizer giant rejects $38.6 billion takeover bid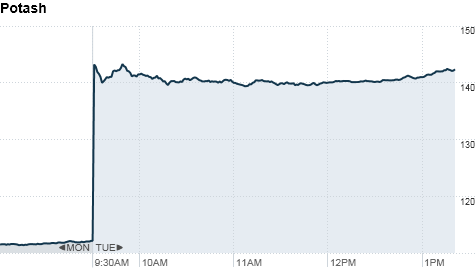 NEW YORK (CNNMoney.com) -- Potash Corporation, the world's largest fertilizer producer, said Tuesday it has received and rejected a $38.56 billion unsolicited takeover bid from BHP Billiton, calling the mining giant's offer "grossly inadequate."
The Saskatoon, Saskatchewan-based company said the $130 per share offer, representing a 16% premium to Monday's closing price, undervalues the company's global operating capacity and potential to capitalize on growing food demand.
However, Bill Doyle, chief executive of Potash, told analysts in a conference call that he is not opposed to selling the company, though he declined to speculate about a price.
"I'm not saying we're opposed to a sale," Doyle said. "But what I am saying is that I'm opposed to a steal of the company."
Shares of Potash (POT) were up 27% to $142.38 in afternoon trading on the New York Stock Exchange. While the stock has regained ground after falling to a low near $85 in July, it remains well below its 2008 highs near $228 a share.
Charles Neivert, an analyst at Dahlman Rose & Co., said BHP will have to raise its offer substantially. "They're going to have to take this up quite a bit," he said, adding that $150 a share would be a minimum.
BHP confirmed in a statement that it has made an offer to buy Potash, adding that it continues to review its options and will make further announcements in due course.
Meanwhile, Potash adopted a shareholder rights plan Tuesday that would allow current shareholders to buy company stock at a "substantial discount" if any investor acquires a stake larger than 20% of outstanding common shares. However, the rights plan does allow an investor to buy a controlling stake of Potash through a bidding process or a negotiated transaction.
The unsolicited bid for Potash comes as the fertilizer industry recovers from the recession and demand for agricultural commodities such as wheat, corn and soybeans has increased sharply. At the same time, grain inventories have fallen to record lows as a severe drought slashed production in Russia and other Black Sea nations.
"Global demand for food is steadily increasing, creating an attractive operating environment for the entire fertilizer industry," Bill Doyle, president and chief executive of PotashCorp, said in a statement.
The takeover bid also boosted shares of other fertilizer companies such as Mosaic Company (MOS, Fortune 500), Agrium Inc. (AGU) and Syngenta (SYT). Shares of BHP (BHP), however, were down more than 2% to $70.42.