Stocks socked by economic trifecta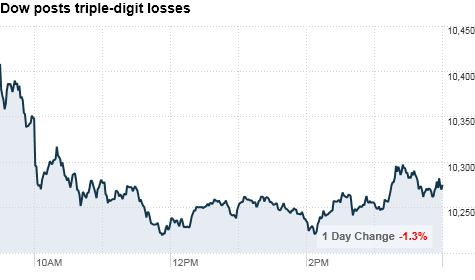 NEW YORK (CNNMoney.com) -- Investors were hit with a triple whammy of bad economic news Thursday: manufacturing still stinks, more people are jobless and confidence in the future is less than hoped.
As a result, stocks finished sharply lower: the Dow Jones industrial average (INDU) tumbled 144 points, or 1.4%, to 10,271 and the S&P 500 (SPX) slipped 19 points, or 1.7% to 1,076. The tech-heavy Nasdaq (COMP) composite fell 37 points, or 1.7%, 2,179.
Stocks were coming off two days of gains, driven by solid earnings outlooks from retail giants Wal-Mart, Home Depot and Target. But even during this week's earlier rallies, traders were saying they were remaining cautious given fears about a double-dip recession -- or at least, a slower recovery.
Thursday's disappointing numbers on weekly jobless claims, manufacturing in the Philadelphia region and leading indicators just fanned the flames on those gloom-and-doom fears.
"Today's news on the U.S. economy has been nothing but awful," Paul Ashworth, senior economist with Capital Economics said in a note to investors.
A report that showed manufacturing activity in the Philadelphia region slowed to a 13-month low "suggests the industrial recovery is teetering on the brink," he said.
Economy: A report from the government showed the number of Americans filing for unemployment insurance unexpectedly jumped 12,000 to 500,000 last week from an upwardly revised 488,000 the previous week. The figure was the highest level since the week ended Nov. 14.
Economists surveyed by Briefing.com were expecting claims to drop to 475,000.
The Philadelphia Federal Reserve's economic index took an unexpected dive in August, turning to negative 7.7 when analysts had expected a positive 7.5. The index measures manufacturing activity in eastern Pennsylvania, southern New Jersey and Delaware, and any number below zero indicates business activity in the sector is slowing down.
Meanwhile, the index of leading economic indicators - a measure of the economy's future performance - increased a mere 0.1% in July, the Conference Board said. Analysts had forecast a 0.2% increase for the month.
Companies: After the close, Dell reported higher quarterly earnings and revenue that surpassed analysts' forecasts. But shares of Dell (DELL, Fortune 500) fell about 1% in after-hours trading after losing 1.2% during regular hours.
Also after the bell, Hewlett-Packard reported quarterly earnings and sales that strongly topped its year-ago results. HP's (HPQ, Fortune 500) stock dipped 0.3% in after-hours trading, after it fell 1.5% during the day.
Earlier Thursday, Intel (INTC, Fortune 500) said it will acquire security software maker McAfee (MFE) for $7.68 billion. Shares of Intel slipped 3.3%, while McAfee's stock spiked about 57%.
World markets: European stocks closed lower. The FTSE 100 in Britain slipped 1.7% and the DAX in Germany moved down 1.8%. The CAC 40 in France fell 2%.
Asian shares finished the session in positive territory. The Nikkei in Japan climbed 1.3%. The Shanghai Composite rose 0.8% and the Hang Seng in Hong Kong added 0.2%.
Currencies and commodities: The dollar rose against the euro but fell against the U.K. pound and the Japanese yen.
Oil futures for September delivery slipped 99 cents to settle at $74.43 a barrel. Gold for December delivery rose $4 to settle at $1,235.40.
Bonds: Prices for Treasurys were higher. The yield on the 10-year note fell to 2.58% from 2.63% late Wednesday. Bond prices and yields move in opposite directions.
Market breadth: Market breadth was negative. On the New York Stock Exchange, losers outnumbered winners five to one on volume of 810 million shares. On the Nasdaq, decliners beat advancers five to one on volume of 1.8 billion shares.