Stocks poised to edge higher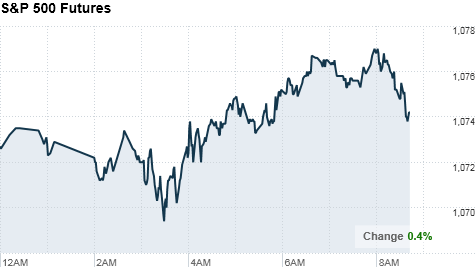 NEW YORK (CNNMoney.com) -- U.S. stocks were set to open higher Monday, though investors maintained a wary outlook after two rough weeks of trading.
Dow Jones industrial average (INDU), S&P 500 (SPX) and Nasdaq (COMP) futures were slightly higher. Futures measure current index values against perceived future performance.
Trading has been volatile on Wall Street as investors have grappled with positive company news on the one hand and downbeat economic readings on the other.
"We're seeing a bit of a bounce after two weeks of declines," said Peter Cardillo, chief economist at Avalon Partners. "With corporate earnings out of the way, investors will focus on the economy and scrutinize every piece of data to the maximum level."
Economy: No major readings are on tap for Monday. Last week, a slew of dismal indicators, including a disappointing reading on weekly jobless claims, battered confidence.
Companies: Hewlett Packard submitted a bid for data-storage company 3PAR for $1.6 billion, a 33.3% premium on the offer proposed by rival Dell last week. Shares of 3PAR (PAR) jumped 38% in premarket trading. Dell's (DELL, Fortune 500) stock edged up 0.7%, while shares of HP (HP) slipped 0.6%.
Shares of fertilizer producer Potash (POT) rose 1.9% in premarket trading after its board of directors recommended shareholders reject an unsolicited $38 billion takeover offer by mining company BHP Billiton (BHP), and said "superior offers or other alternatives are expected to emerge." Shares of BHP were up 1.2% in premarket trading.
The Gulf Coast Claims Facility, led by Kenneth Feinberg, will takeover the BP oil spill claims process Monday. The claims will be paid using the $20 billion escrow account established by BP to compensate for damage. Shares of BP (BP) were up 0.1% in premarket trading.
World markets: European shares were modestly higher in mid-morning trade. The CAC 40 in France rose 0.6%, Britain's FTSE 100 gained 0.7% and the DAX in Germany was up 0.3%.
Asian markets slipped. Japan's benchmark Nikkei index ended down 0.7%, the Hang Seng in Hong Kong fell 0.4% and the Shanghai Composite edged lower 0.1%.
Currencies and commodities: The dollar rose against the euro, but fell versus the U.K. pound and the Japanese yen.
Oil futures for October delivery rose 45 cents to $74.27 a barrel. Gold for December delivery edged up 10 cents to $1,228.90.
Bonds: Prices for Treasurys were lower. The yield on the 10-year note rose to 2.63% from 2.62% late Friday. Bond prices and yields move in opposite direction.