PG&E shares fall after deadly explosion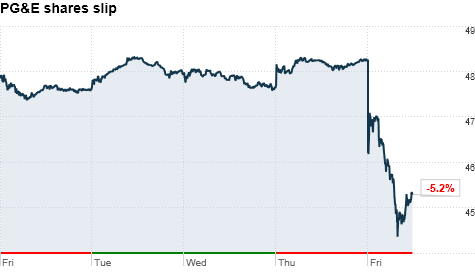 NEW YORK (CNNMoney.com) -- Shares of Pacific Gas & Electric tumbled 6% Friday after a gas pipeline in California exploded and erupted into flames.
The blast occurred in San Bruno, near San Francisco, after a gas transmission line owned by PG&E (PCG, Fortune 500) ruptured. But the cause of the rupture is still being investigated.
The explosion, which took place late Thursday, killed four people and sparked a fire that has destroyed dozens of homes.
Shares of the utility company dropped $2.91, or 6%, to $45.34 in afternoon trading Friday.
CNNWires contributed to this report.