Budget chief nominee: Crucial times ahead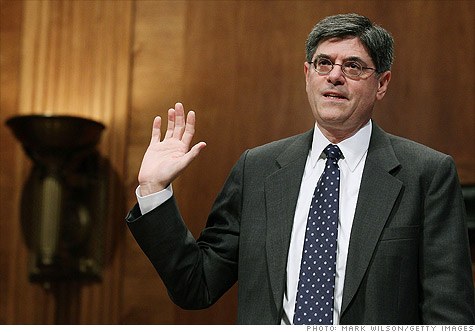 NEW YORK (CNNMoney.com) -- Jacob Lew, President Obama's pick for budget director, told lawmakers Thursday that the coming months may be the most critical time for U.S. fiscal policy in recent memory.
In a confirmation hearing before a Senate committee, Lew acknowledged the difficulty involved with balancing the need to create jobs in the short term while taking steps to bring down long-term deficits. But he said he believes it's possible to achieve both of these goals simultaneously.
"With millions of Americans who desperately want to work still unable to find jobs, our first task is to sustain and deepen the economic recovery and spur new job creation in the face of unsustainable budget deficits," said Lew. "At the same time, we must put our nation back on a sustainable fiscal course in the medium term while making investments critical to long-term economic growth."
Lew, who was OMB director under President Bill Clinton, would replace Peter Orszag as the administration's point person on the budget, which has become a politically charged issue ahead of the midterm elections in November.
Senate Budget Chairman Kent Conrad, D-N.D., said he hopes to schedule a vote on Lew's nomination before Congress adjourns in October. He is widely expected to be confirmed. The OMB is currently being run by acting director Jeffery Zients.
Echoing comments Obama made Wednesday, Lew stressed that policymakers should set aside partisan differences on fiscal policy and "do what is right for the country."
Obama tapped Lew in July, shortly after the president pledged to cut the nation's budget deficit in half by 2013 at a meeting of world leaders in Toronto. If confirmed, Lew would be in charge of drawing up the administration's fiscal 2012 budget proposal.
As director of the OMB under President Clinton from 1998 to 2001, Lew oversaw the budget office during a time when the nation ran surpluses. But the current situation is much different, with the need to create jobs in the short term bumping up against worries about the nation's long-term impact of the nation's massive budget deficit.
In response to a question about the growth of entitlement programs such as health care and Social Security, Lew would not rule out the possibility of additional spending. But he stressed that any new initiatives should be fully funded in advance.
"The challenge is to make sure that anything we do in this area we pay for," he said.
The Senate confirmed Lew last year to serve as Deputy Secretary of State, where he as worked closely Secretary of State Hilary Clinton on economic affairs. Before that, he was chief operating officer of an alternative investment division of Citigroup, which received federal bailout money.
The hearing comes as lawmakers joust over the expiration of tax cuts enacted under President George W. Bush in 2001 and 2003. In particular, Congress is divided over tax breaks for families and individuals making more than $250,000 and $200,000 a year.
Obama and many Democrats say the tax cuts for the wealthy do not help the economy and should expire later this year, according to schedule. Republicans want permanent extension of all tax cuts. A few Democrats say the cuts should be extended only for a few years.
While Lew stopped short of voicing an opinion on the Bush tax cuts, he signaled that closing certain loopholes in the tax code would "help promote a sense of fairness."
"It has been a long time since there's been a serious discussion about the general nature of the tax code," he added.
The tax cuts and other fiscal issues have loomed large as politicians from both parties jockey for position ahead of the midterm elections, which will decide control of Congress.