Investors stock up on U.S. debt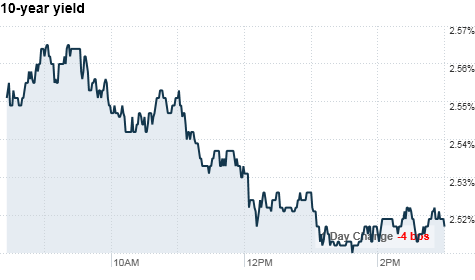 NEW YORK (CNNMoney.com) -- Treasury yields fell Monday, as demand for U.S. debt remained strong at the start of a major auction week.
Investors are watching the government's auction of $36 billion in 2-year Treasurys on Monday -- the first of about $158 billion in newly-printed Treasurys to hit the market this week.
Although anticipation of new supply would often drive yields higher, the reverse was true Monday as jitters about the economic recovery continue to spur investors into low-risk bonds.
"Against the backdrop of a still-weak economy and a Fed that appears poised to intensify its asset purchase program, my guess is that the demand for Treasurys will remain fairly robust, despite the amount of supply hitting the market this week," Kevin Giddis, president of fixed income capital markets at Morgan Keegan, wrote in a note to investors.
What yields are doing: The yield on the benchmark 10-year note fell to 2.53% from 2.6% late Friday. Bond prices and yields move in opposite directions.
The yield on the 30-year bond slid to 3.72% from 3.79%, and the 5-year note fell to 1.29% from 1.35%. The 2-year note's yield slipped to 0.44% from 0.45% on Thursday.
What's moving the markets: Last week, the Federal Reserve expressed concern about deflation and a slowing recovery. The central bank said it is willing to take additional steps to support the economy if necessary, including its policy of quantitative easing -- or buying Treasurys outright to stimulate the economy.
That language was encouraging bond investors to stock up on more U.S. debt.
The government auctions off $94 billion in short-term Treasury notes Monday, $35 billion in 5-year notes Tuesday and $29 billion in 7-year notes on Wednesday.