Walgreens stock soars after earnings report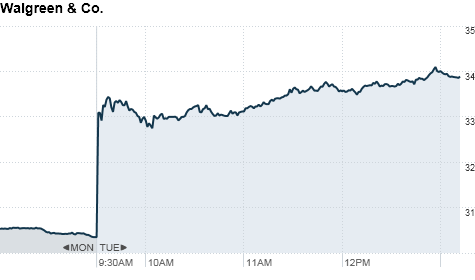 NEW YORK (CNNMoney.com) -- Shares of Walgreen & Co. spiked almost 12% Tuesday after the nation's largest drugstore chain posted fiscal fourth-quarter earnings and revenue that topped Wall Street expectations.
Walgreens (WAG, Fortune 500) reported a profit of $470 million, or 49 cents, for the three months ended Aug. 31, up 11.4% from a year earlier. The Deerfield, Ill.-based company brought in $16.9 billion in sales, up 7.4% compared to a year earlier thanks to 6.5% rise in prescriptions sales.
Analysts polled by Thomson Reuters were looking for Walgreens to earn 44 cents per share on revenue of $16.8 billion.
Investors were particularly cheery about the drugstore's thicker profit margin, which increased to 28.4% during the quarter from 27.7% a year earlier, thanks to aggressive cost-cutting, said Jeff Jonas, analyst at Gabelli & Co.
"Overall, sales at the front of the store are still depressed because of the slowing economy and tight consumer. Pharmacy sales are doing moderately OK, but revenue growth will remain muted" Jonas said. "But if Walgreens can continue to manage costs through this economy as it has been, it should do well."
Walgreens said it reached its cost reduction targets for the year, and is on track to save $1 billion is fiscal 2011.
Jonas said the drugstore, which bought New York-based Duane Reade earlier in the year, is also on track to improve its financial performance as it continues to gain market share from Rite Aid (RAD, Fortune 500) and independent pharmacies and benefit from a new wave of higher-margin generic drugs.
Though Walgreens does not issue guidance, Jonas said the fact that the company has returned $2.2 billion, almost five times last year's amount, to shareholders during the fiscal year in dividends and stock repurchases signals a bright future.
For the current quarter, analysts expect Walgreens to boost earnings by 7% and revenue by 6%.