Still waiting for HP's new CEO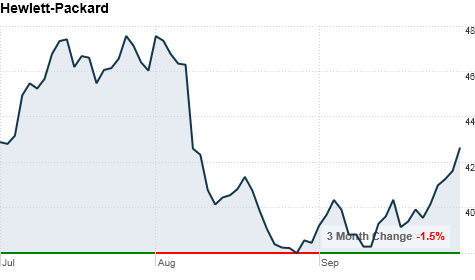 NEW YORK (CNNMoney.com) -- Many thought Hewlett-Packard would name its new CEO on Tuesday since it was having an analyst meeting that day. That didn't happen.
But one analyst said HP has chosen its next CEO, and is in contract negotiations with that person. Dave Cearley, an analyst at tech consultancy Gartner, said it's his understanding based on discussions with the company that HP is working out a deal with its pick to replace Mark Hurd as its chief executive.
HP (HPQ, Fortune 500) declined to comment on its CEO search. Spencer Stuart, an executive placement firm that HP hired to conduct its CEO search, also declined to comment.
Cearley said the timing of the announcement is dependent on the success of the negotiations. He said it could happen "very quickly" if the negotiations are fast-paced, though he expected HP to make its decision public by no later than the end of October, which is also the end of HP's fiscal year.
Cearley would not reveal whether the person was a current HP executive or a person from outside the company.
The company didn't give any hints as to who the next candidate might be, but shares are still up Wednesday after the company impressed investors with its healthy outlook for 2011.
"It would have been good to have been able to announce it," Cearley said. "But getting the right candidate in place is much more important than meeting an arbitrary Wall Street deadline."
Analysts say the most likely candidates are Ann Livermore, head of HP's tech services division; David Donatelli, the company's server chief; and Todd Bradley, the head of HP's PC and mobile devices unit.
Speculation that Bradley is the top choice grew on Monday, after Bradley let slip that he would answer a question about printers "if I take the position," at TechCrunch's Disrupt conference on Monday.
So far, the search has taken 54 days, five days longer than HP took to replace former CEO Carly Fiorina with Hurd in 2005.
Hurd resigned from his position of CEO and chairman of the board on Aug. 6 after the company found he submitted false expense reports to hide a relationship with a marketing contractor.
The contractor filed a sexual harassment claim against Hurd, which was settled privately. An internal investigation at HP cleared Hurd of breaching the company's sexual harassment policy but found he violated HP's standards of business conduct.
Cathie Lesjak, HP's chief financial officer, has been acting as interim CEO since Hurd resigned but has indicated she is not interested in the job on a permanent basis.
HP has stayed very busy under Lesjak by making several large acquisitions. The biggest was a more than $2 billion purchase of high-end storage company 3PAR, in which HP engaged in a brutal bidding war with rival Dell.
Though this and other deals were in the works before Hurd left, many analysts speculated that with 3PAR, HP overpaid for the company in order to demonstrate to investors that the company was not a rudderless ship.
Hurd was beloved by HP investors for his ability to cut costs and grow profit margins. HP's shares more than doubled during his five-year reign as CEO, and the stock fell as much as 18% after Hurd's departure. After Hurd was appointed co-president of Oracle on Sept. 5, Oracle's (ORCL, Fortune 500) shares have risen 18%.
Accordingly, HP's new CEO will have some tough shoes to fill. But HP's new leader will have to choose whether to follow in Hurd's footsteps or take a different path.
Some, including IBM (IBM, Fortune 500) CEO Sam Palmisano, have criticized Hurd for sacrificing the company's future for short-term gains by drastically cutting spending on research and development.
Shares have recovered some lost ground in recent days in anticipation of the announcement of a new CEO.