Manhattan real estate prices up 14%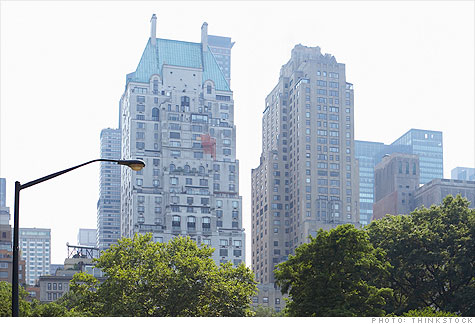 NEW YORK (CNNMoney,.com) -- Home prices in Manhattan, the most expensive large housing market in the nation, appear to be stabalizing -- and maybe even growing.
Condo and coop prices rose between 7.5% and 14% in the last quarter, compared to the same period a year ago, according to a host of markets reports released Friday by big New York brokerage firms.
The median price for an apartment sold hit a whopping $890,000, according to broker Brown Harris Stevens and the Halstead Group. For The Corcoran Group, the price was $900,000; Prudential Douglas Elliman came in at $914,000.
This is the third consecutive quarter of price gains, a signal that Manhattan real estate is stabalizing. Plus, the supply of homes for sale has grown much tighter, down about 25% since inventory hit a peak in March 2009.
"It's now a very normal, back-to-basics market in New York," said Pam Liebman, Corcoran's CEO.
Homes sold more quickly than they had been, according to Jonathan Miller of Miller Samuel, the appraisal firm that calculates prices for Prudential. The average home sold during the quarter was on the market just 127 days, down from 167 during the third quarter of 2009.
But all these numbers may make the market appear a little stronger than it actually is, according to Miller.
"Prices aren't really rising," he said. "The indicators are rising but only because we've shifted to a more normal mix of sales."
And the local economy has been making headway: One of every 10 private sector jobs created this year has been in New York City.
The stock market, always a critical factor in the fiscal health and consumer confidence of New Yorkers, climbed more than 10% during the quarter.
All that has helped the housing market return to the "old normal," said Miller, without really taking off. "The word recovery isn't really appropriate yet. Prices are not jumping."
One drag on the market is the difficulty buyers face obtaining mortgages. Interest rates may be low, but underwriting barriers are high. Lenders ask for substantial down payments, high credit scores and lots of documentation.
"Credit is still the tightest I've seen in my lifetime," said Miller.
He said the market may go sideways for a while. "It may get a little worse before it gets better," he said.
Right now though, the market is primed for Goldilocks buyers -- neither too cold nor too hot.
"We're in a good, healthy place," said Liebman. "Buyers are acting like they did in the past, buying to fulfill their needs, not running with the herd."