Don't get robbed! Best printers for the money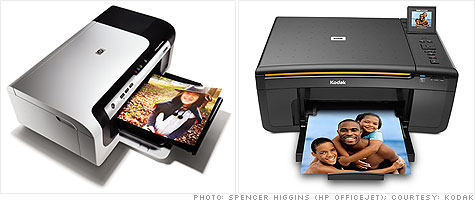 (MONEY Magazine) -- The machine is cheap -- until you start using it every day. Ink and toner cost the average U.S. household $90 a year, according to Lyra Research. Use these tactics to trim your bill.
1. Check out page costs, not just printer costs. To calculate printing costs, divide the price of the cartridge by the number of pages it prints (most manufacturers post this on their sites). For monochrome text pages, aim for less than 3¢ a page. For color docs, a good target is 9¢ a page.
2. Stick with inkjet for versatility. Laser printers pump out crisp text at high speeds, often for 1¢ to 2¢ a page, but affordable models ($120 or so) print only in black. Popular inkjets are slower and more costly to run, but they print color documents and photos too.
Best inkjet value: The HP Officejet 6000 Wireless ($74 at Buy.com) does nothing but print, but it does that exceedingly fast and inexpensively, with great quality. Black-and-white documents cost 2.7¢ a page; color runs 9.1¢ a page. A built-in duplexer for two-sided printing helps cut paper costs.
3. Soup up your printer for just a few bucks. A basic inkjet prints documents and photos. If you want a machine that also scans, copies and faxes, you can get one for as little as $10 more. "For a bit more money, they offer a lot more functionality," says M. David Stone, an analyst at PCMag.com.
Best all-in-one: The Kodak ESP 5250 All-in-One ($110 at Amazon.com) prints black-and-white pages for 2.4¢ each; color docs are 6.7¢ a page. Replacement ink is among the cheapest you'll find: $10 for black and $18 for a five-ink color cartridge.
4. Don't be flashy. How often do you need to see crisp type and color details? Adjust your printer's default software settings to print in black. In addition, select the "draft" or "fast" mode. Save "standard" or "high" for letters, résumés, and the like.
5. Mail yourself a picture. Ordering copies of your photos online is often more economical than printing them at home. Snapfish.com offers four-by-six-inch prints for a bargain 9¢ each. Your first 20 are free, and you can pick them up at participating Wal-Marts, Walgreens, and other stores.
6. Shop smart. You can save as much as 25% by buying cartridges from sites like Amazon.com rather than printer makers' sites. Or try your local Costco or Sam's Club. Always buy large ink cartridges or packs of multiple cartridges.