Toyota to unveil another Prius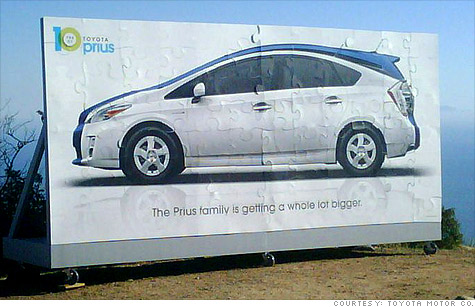 NEW YORK (CNNMoney.com) -- Toyota will unveil a new version of its famous Prius Hybrid at the Detroit Auto Show in January, the automaker announced Thursday. This car would not be a replacement for the Prius hatchback but would sell alongside the now-familiar egg-shaped car.
The "Next member of the Prius family" will be an "all-new model with more comfort, style and versatility," the automaker announced on its official Twitter feed.
The Detroit Auto Show is scheduled for January, 2011. The unveiling of the new Prius model will come one year after Toyota announced, at last year's show, that it would expand the Prius brand into a whole line of vehicles rather than just the one car.
All Prius vehicles will be gas/electric hybrids and each will be unique to the Prius brand rather than simply being hybrid versions of other Toyota products, Toyota executives have said.
The Toyota Prius is the best-selling hybrid car in America. On its own, it accounts for more than half of all hybrids sold in America. It is Toyota's third best-selling car model after the Camry mid-sized sedan and the Corolla compact car.
Still, all hybrid vehicles combined account for only about two percent of the car's sold in America.
In 2007 Toyota showed a concept version of the Prius called the Hybrid-X. That vehicle had a taller back end showing what the Prius might look like with a more wagon-like body. It is still unclear what sort of body style the new Prius will have.