Wall Street gets into the thick of earnings season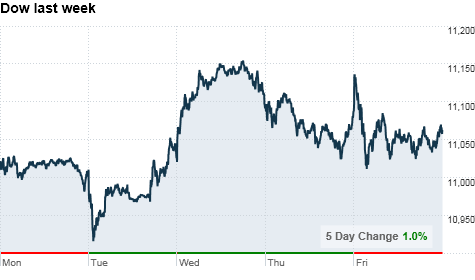 NEW YORK (CNNMoney.com) -- After obsessing over Federal Reserve policy last week, investors are now turning their attention to the tsunami of corporate earnings reports.
Seven blue-chip Dow stocks are scheduled to release third-quarter results this week: IBM, Bank of America, Johnson & Johnson, Caterpillar, McDonald's, American Express and Verizon.
As if that weren't enough, the big banks are on tap too: Citigroup, Goldman Sachs, Morgan Stanley and Wells Fargo. The financial sector led the market lower late last week as investors worried about the fallout from investigations into the foreclosure practices of many banks and mortgage servicers.
But wait, don't forget the techs. Results are also due from Apple, the darling of the tech sector, and Yahoo, which has been the subject of takeover talk recently.
"Earnings will be the dominant theme," said Alec Young, equity strategist at Standard & Poor's. "Economic data is always important, but earnings are going to set the tone."
While it's relatively early in the third-quarter reporting period, results have generally come in better than expected. Of the S&P 500 companies that have posted results, 83% have beat analyst estimates, according to Thomson Reuters.
Overall, analysts expect third-quarter earnings to be up 24% from a year earlier, and they expect revenue to rise 7%.
Stocks had been climbing steadily since late August, when Federal Reserve chairman Ben Bernanke signaled that the central bank is prepared to use "unconventional measures" to aid the economy.
Since then, there has been growing speculation that the Fed will announce plans to resume large-scale purchases of U.S. Treasurys, a policy called quantitative easing, when it meets next month. The Fed has bought billions worth of U.S. bonds during the past two years to push down interest rates and get money into the economy.
On Friday, Bernanke gave a speech that convinced many market participants that a second round of quantitative easing, affectionately known as QE2, is all but certain.
But stock traders said the market has already "priced in" much of the potential benefit of QE2, and now it's up to company earnings to drive stock prices.
"You can only grow on the QE2 story for so long," said Quincy Krosby, market strategist with Prudential Financial. "The market went up on the notion that QE2 will unleash a wave of liquidity. But absent implementation, we're going to look at the economic data and top line revenue growth."
She said investors are focused on revenue growth for signs that corporate earnings are being driven by consumer demand, rather than cost cutting and easy comparisons to 2009. Investors will also pay close attention to what company executives have to say about the outlook for next year, she added.
"We're trying to asses the growth of global demand," said Krosby.
Stocks ended mixed Friday as weakness in the banking sector dragged the Dow lower, while technology shares remained firm. All three major gauges posted gains for the week, however.
On the docket
Monday: Government data on industrial production and capacity utilization for September are due before the market opens.
After the opening bell, the National Association of Homebuilders is scheduled to release its housing market index for October.
Companies reporting quarterly financial results early Monday include Citigroup (C, Fortune 500), while Apple (AAPL, Fortune 500) and IBM (IBM, Fortune 500) are up after the closing bell.
Tuesday: A report on September housing starts and building permits comes out in the morning.
Economists expect 575,000 homes broke ground in the month, down from 598,000 in August. Building permits are expected to dip to 565,000 from 569,000, according to consensus estimates from Briefing.com.
In the morning, Bank of America (BAC, Fortune 500), Coca-Cola (KO, Fortune 500), Goldman Sachs (GS, Fortune 500) and Johnson & Johnson (JNJ, Fortune 500) are schedueld to release quarterly financial statements.
Yahoo's (YHOO, Fortune 500) results come out after the market closes.
Wednesday: The Federal Reserve will release its Beige Book report on economic conditions across the central bank's 12 districts in the afternoon.
Results are due from Boeing, (BA, Fortune 500) Morgan Stanley (MS, Fortune 500) and Wells Fargo (WFC, Fortune 500) before the open.
Thursday: Reports on initial jobless claims, leading economic indicators and regional manufacturing activity are all on the agenda.
In addition, AT&T (T, Fortune 500), Caterpillar (CAT, Fortune 500), McDonald's (MCD, Fortune 500) and UPS (UPS, Fortune 500) are scheduled to report results early Thursday.
Amazon (AMZN, Fortune 500) and American Express (AXP, Fortune 500) are up after the close.
Friday: There are no economic reports on the calendar, but Honeywell (HON, Fortune 500), Schlumberger (SLB) and Verizon (VZ, Fortune 500) are scheduled to report results.