Betting on a bond-buying spree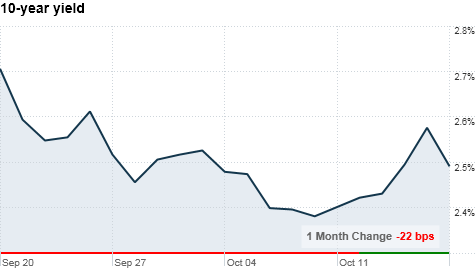 NEW YORK (CNNMoney.com) -- Treasury prices climbed Monday, as investors continue to bet on another bond-buying binge from the Federal Reserve next month.
Demand for Treasurys has surged as investors remain convinced that weak economic data will push the Federal Reserve into another round of asset purchases next month.
Since large purchases by the government would likely drive yields down, bond traders are trying to get into the market at current prices and yields.
Investors are also taking advantage of lower prices following last big week's auctions. Large government auctions often push the price of Treasurys down as more supply enters the market. Since last week's auctions drew weak demand, prices fell more than expected.
"Treasurys are at pretty rich levels still, but we did see a sell-off on Friday after some pretty bad auctions," said Kim Rupert, a fixed income analyst with Action Economics. "We've seen buyers, especially from Asia, step back in on those price declines."
This week, bond traders will be closely tuning into more than a dozen speeches from Fed officials for more clues about asset purchases going forward.
Since September 2008, the Fed has pumped about $2 trillion into the economy through purchases of long-term government bonds and mortgage-backed securities -- a policy known as quantitative easing.
The Fed has recently led Wall Street to believe that more purchases are on the way -- and soon.
Questions are arising as to how much and what kind of assets the Fed will buy, although most speculations put the overall figure between $500 billion and $1 trillion in long-term U.S. Treasurys.
What yields are doing: The yield on the benchmark 10-year note fell to 2.51% from 2.57% Friday.
The 30-year bond's yield fell to 3.94% from 3.99%. The yield on the 5-year note fell to 1.13% and the 2-year note's yield hit 0.37%.
Prices and yields move in opposite directions.
What foreign investors are doing: Foreign investors nearly quadrupled their purchases of U.S. government debt in August over July, the Treasury Department said in a report released Monday.
Foreigners bought $117.1 billion in U.S. Treasury notes and bonds in August, compared with $30 billion in July.
China alone bought $21.7 billion in Treasurys in August, bringing its total holdings to $868.4 billion. While China has been reducing its holdings gradually since last year, it remains ahead of Japan as the single largest buyer of U.S. debt.
Japan held $836.6 billion in Treasurys in August, up $15.6 billion from the month before.