Hyundai: We're more American than Detroit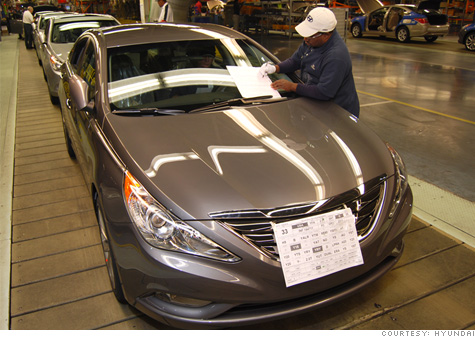 NEW YORK (CNNMoney.com) -- By next year about 80% of the vehicles Korean automaker Hyundai sells in the United States will be built here, the CEO of the automaker's U.S. arm told CNNMoney.
That percentage would likely put Hyundai at the top of the "Made in the USA" rankings among all automakers operating in the U.S., including Ford, Chrysler and General Motors.
Hyundai has been on a tear lately. The 2011 Sonata earned a top safety rating earlier this month, its vehicles have been getting rave reviews and its U.S. sales are booming.
Hyundai was one of the very few automakers to manage a sales increase in 2009, and last month they were up again by nearly half from the year before.
Considering its fast-moving success in the American market, CNNMoney asked Hyundai Motor America chief John Krafcik if he feared a "buy American" backlash.
Krafcik pointed out that Hyundai plans to move production of its popular Elantra from Korea to the automaker's Montgomery, Ala., plant later this year.
"I'm going to build my three best selling cars in the U.S.," Krafcik said. "Ford builds its best selling car in Mexico."
The Elantra is Hyundai's second most popular model. The Hyundai Sonata mid-sized sedan, Hyundai's biggest seller, and the Santa Fe SUV, which together make up half of Hyundai's U.S. sales, are already built here.
Ford Motor Co. builds the Fusion mid-sized sedan in Mexico. Ford was not able to say what percentage of the cars it sells in the U.S. are built here.
Popular Ford models, such as the Edge SUV and the Fiesta sub-compact, are built in Mexico and Canada. Even though the top sellers are built elsewhere, the bulk of Ford cars sold in the U.S. are built here. Still, they tally up to less than 80%.
Ford's not terribly bothered by the comparison, though.
"I think we're encouraged that, overall, American manufacturing is competitive," said Ford spokesman John Stoll.
Ford has also "in-sourced" a number of manufacturing jobs recently, bringing thousands of jobs back to the U.S. as it works with the United Autoworkers Union to make its older plants more competitive, he said.
Chrysler also didn't provide an exact figure, but some of Chrysler's most popular models, including its minivans and large sedans such as the Chrysler 300 and Dodge Charger, are built in Canada. That would put their U.S. production below 80%.
General Motors said between 60% and 70% of the cars it sells in the U.S. are assembled here.
Automakers generally don't break out the percentage of cars they sell that are built in the U.S. because, with free trade agreements, cars built in Canada, Mexico and the U.S. are counted together as "North American production."
Playing with numbers. Although Hyundai's 80% goal sounds impressive, the actual number of vehicles it builds domestically pales in comparison to major U.S. automakers.
For example: If GM only built about 66% of the vehicles it sold in the U.S. domestically in 2009 that would mean that GM would have more than tripled the 400,000 cars Hyundai expects to build in the U.S. next year.
Also, production figures like these deal only with "final assembly." In the case of Chrysler, for instance, engines and transmissions for many of the cars it assembles in Canada are built in U.S. factories and shipped north. With most major automakers, various components and parts move back and forth among Canada, Mexico and the United States, making it difficult to point to one place where a car is "built."
Analysts at J.D. Power and Associates don't quite share Krafcik's expectations for U.S. production.
"I don't have it at 80%," said J.D. Power analyst Jeff Schuster. "I have it closer to 70%."
Making Krafcik's "80%" prediction come true would require a big increase in Elantra and Santa Fe sales, similar to the boost that Sonata sales got after that model's recent redesign.
Schuster says sales of the Elantra and Santa Fe should rise significantly with their coming redesigns. The question is: By how much?
It's not about PR, it's about the dollar. Krafcik boasted of Hyundai's commitment to local market production. While it may offer some public relations benefit, that isn't the main reason for such a move, said auto analyst Todd Turner of Car Concepts.
"This corporation doesn't really make decisions based on PR," he said.
For foreign automakers, making cars in the U.S. provides two big benefits. For one, it protects them against changes in the value of their own currency relative to the dollar. Paying to build cars in South Korean Won then selling them in U.S. dollars can be difficult if the dollar loses value against the Won.
Second, it makes it easier to adjust to rapid shifts in consumer demands. If U.S. gas prices shoot up and car buyers start demanding more Elantra's and fewer Sonatas, production can be shifted and deliveries to dealers can start almost immediately. Not so when factories are an ocean away.