Wells Fargo earnings top expectations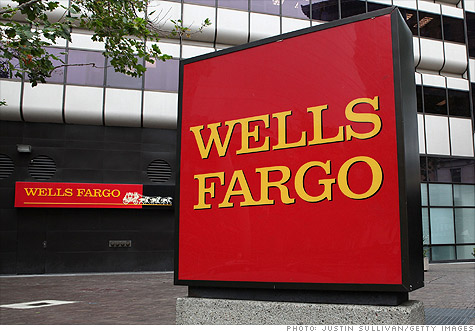 NEW YORK (CNNMoney.com) -- Wells Fargo reported its highest quarterly profit ever Wednesday, and said its "sound and accurate" practices meant it does not need a freeze on foreclosures.
Third-quarter earnings for the bank came in at $3.34 billion, or 60 cents per share, compared to $3.24 billion, or 56 cents, a year earlier.
According to Thomson Reuters, analysts expected the bank to earn 55 cents per share for the quarter.
Shares of Wells Fargo (WFC, Fortune 500) were up by about 2% by midday, bouncing back from a loss of 2% in early trading following the earnings report.
While some of its competitors have been ensnared in the fallout from the foreclosure document mess, the San Francisco-based bank is proceeding with foreclosures.
In its release, the bank reiterated that it has no plans to institute a foreclosure moratorium because its "practices, procedures and documentation" in its housing business are sound.
In fact, the mortgage business is rebounding. The bank brought in $194 billion in new loan applications in the third quarter, its second-highest quarter for mortgage applications ever.
But the bank was forced to address its exposure to the latest foreclosure related concern: repurchase requests.
Analysts on a conference call with CEO John Stumpf and CFO Howard Atkins on Wednesday made repeated inquiries into whether the bank will be forced by institutional investors to buy back mortgage securities due to faulty documentation.
The two insisted the bank does not anticipate an increase in repurchase requests, and that the number of requests had fallen in the third quarter.
If repurchase requests were to spike, the bank says its $1.3 billion repurchase reserve liability is adequate.
While profit reached a record level, revenue decreased from $21.4 billion in the second quarter to $20.9 billion in the third. About a third of that decline was due to changes in overdraft fee policy.
But the bank touted its progress integrating Wachovia, Atkins calling the merger a "big success."
"The merger of these two companies has met or exceeded our expectations in terms of lower credit losses, more abundant revenue synergies and integration savings," Atkins said in a statement.
In recent months, the company said it has converted more than 350 Wachovia branches in Texas, Kansas, Alabama, Mississippi and Tennessee.
Wells Fargo's results follow better-than-expected profits from rivals Citigroup (C, Fortune 500) and JPMorgan Chase (JPM, Fortune 500). On Tuesday, Bank of America (BAC, Fortune 500) reported a $7.3 billion loss, due in large part to a one-time charge in its credit and debit card unit.