Oil market waits for Fed to make the next move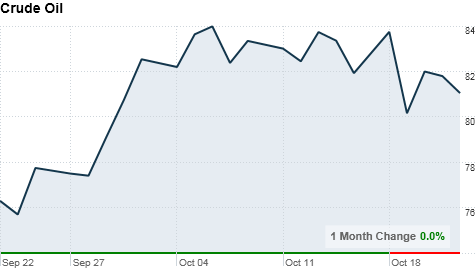 NEW YORK (CNNMoney.com) -- Crude prices moved higher on Friday, reacting to unease over a French labor dispute and a developing tropical storm in the Caribbean.
But for the most part, the oil market is waiting to see the plan that the Federal Reserve will unveil in November, when it is expected to announce a new round of asset purchases to boost the economy.
Prices were up 1.4% to $81.69 on Friday, but volatility was low compared to Thursday's session, when price swings were much wider and oil hit an intra-day high of $82.70 before settling at $80.56.
Angry strikes have enveloped France in recent days over a proposal to raise the retirement age from 60 to 62. Protesters have scuffled with police and blockaded oil refineries and terminals for days.
Worried investors sent prices higher as a result, but according to Michael Fitzpatrick, vice president of energy at MF Global, the protests are unlikely to have any long term effect on prices.
"The last week has been characterized by a shift in focus from the dollar and stock market to more fundamental factors," Fitzpatrick said.
Tropical storm Richard is not yet large enough to be a major cause for concern, but analysts said they were monitoring the system, which is moving toward Honduras.
Oil prices have hovered at just over $80 for much of October as investors take a wait-and-see approach in advance of the Fed's November meeting.
The central bank has pumped about $2 trillion into the economy since the recession began in September 2008, in a process known as quantitative easing -- massive purchases of financial assets, like mortgages and Treasuries, designed to encourage spending through lower interest rates.
And now the Fed is considering an additional round of action.
"QE2 is probably the biggest event the market is anticipating," said Brian Hicks, co-manager of US Global Investors' Global Resources Fund. "Fed action might be priced in to some degree, but they could surprise on the upside or the downside."
Hicks said investors have moved into oil ahead of the Fed's November meeting as commodities are a hedge against inflation.
The Fed will announce any QE2 purchases at the conclusion of its meeting on November 3.