Wharton shops for retail MBAs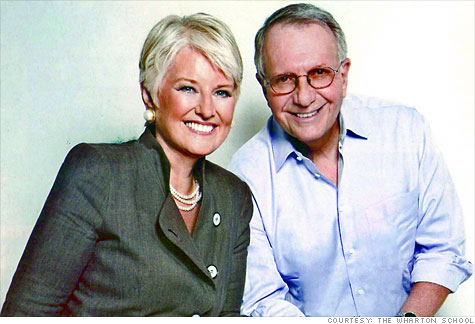 FORTUNE -- The Wharton School of Business of the University of Pennsylvania today announced a gift of $15 million from Jay H. and Patty Baker to endow a center for study of the retail industry. The amount builds on a $10 million gift the Bakers made in 2002 to endow the Jay H. Baker Retailing Initiative.
Baker made his name as president of Kohl's Corp., (KSS, Fortune 500) a position he assumed in 1986 after being part of a management-led buyout of the retailer. He served in that role until 1999, a period during which the retailer's revenue grew from $280 million to $6 billion. He remained on the board until 2007. Kohl's, based in Menomonee Falls, Wis., had sales of $17.2 billion last year and has 1,067 stores in 49 states.
Although the endowment isn't among the largest for business schools -- the private equity executive Henry Kravis pledged $100 million for Columbia Business School earlier this month -- the Jay H. Baker Retailing Center is the largest center devoted to retailing at a business school, according to a spokesperson for the university. Wharton is also the only school to offer an undergraduate degree in retailing.
The funds for the center will support curriculum development, industry outreach and cutting-edge research into retailing. Programs will be accessible to both graduate and undergraduate students. Among the 50 members on the center's board are names like Macy's (M, Fortune 500) CEO Terry Lundgren and Roger Farah, COO and president of Polo Ralph Lauren (RL, Fortune 500).
The idea for the center came after Baker observed a lack of interest among top students in retail careers. Surprisingly, Baker says it was because it wasn't sold well. "We didn't tell people what a career this could be," he said in an interview with Fortune. "The whole perception was you work long hours and you make less money than other people."
Instead, Baker said, the message should have been that there's great opportunity in retailing if you have the passion for it. "There are very few organizations that you can go into and in two or three years be a buyer and buy fifty or a hundred million dollars worth of merchandise," he said. He added that a lack of a talent pipeline was also a problem for the industry, and he hopes the new center will help solve that.
The Bakers' gift comes at a time when the retail industry is fraught with questions about its future. As retailers hang on monthly consumer confidence reports, industry watchers make conflicting predictions about the changing attitudes of American shoppers. Such forecasts will only increase in coming weeks as the holiday season approaches.
Meanwhile, consumer retail dollars continue to move online as a new wave in Internet commerce brings businesses like Gilt Groupe and Groupon to the fore. These new business models, known as "flash sales" and "group buying," will no doubt be a focus for the center. Wharton claims to be uniquely positioned to look at the intersection of retail and online, thanks to the frequent interaction of its numerous research centers.
Baker graduated from Wharton in 1956 and began his career in the Macy's training program, having gotten an early start in the profession while working at his parents' millinery store in Flushing, NY. He currently sits on the Wharton Board of Overseers at Penn and has also endowed a fellowship, a professorship and numerous scholarships.