Sin City is still foreclosure central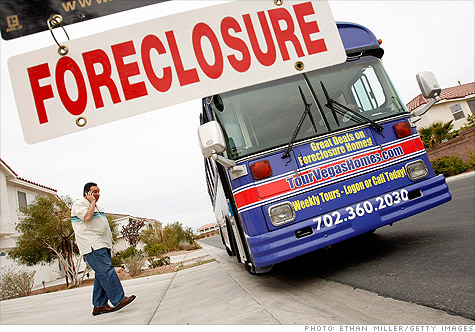 NEW YORK (CNNMoney.com) -- The usual suspects led the list of top cities for foreclosure filings during the last three months.
Cities in four states -- California, Florida, Nevada, and Arizona -- accounted for the 13 hardest hit areas, according to foreclosure marketer RealtyTrac, which released its third quarter report on Thursday.
Las Vegas was far and away the hardest hit metro area. One out of every 25 housing units -- more than 32,000 homes -- attracted some kind of foreclosure filing, including notices of default, auction notices and repossessions.
Cape Coral, Fla., had the second highest foreclosure rate, with one in 35 homes getting hit with a filing. It was trailed by three Central Valley California cities: Modesto (one in 36), Stockton (one in 39) and Merced (one in 40).
The main causes of foreclosure are high unemployment, underemployment, toxic loans and negative equity, and "these historically high foreclosure rates will continue until those problems are resolved," said James Saccacio, RealtyTrac's CEO.
Miami had a total of nearly 59,000 properties with filings, more than any other metro area. Los Angeles had nearly 49,000.
Several metro areas experienced significant increases in already substantial foreclosure numbers. Filings almost doubled in the Riverside-San Bernardino area compared with three months earlier, to nearly 36,000 properties.
Vallejo, Calif., filings jumped 45%, quarter to quarter; Tampa, Fla., rang up a 58% increase; and San Diego recorded a 62% increase.