Fed plan may disappoint bond traders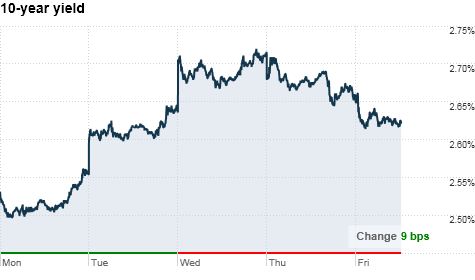 NEW YORK (CNNMoney.com) -- Bond traders have been gearing up for the Federal Reserve's second round of stimulus measures for weeks. With the highly-anticipated announcement just days away, analysts warn that investors could be in for a disappointment.
After the central bank hinted that it plans to implement another round of quantitative easing, or buying up assets to boost the economy, traders scooped up bonds, pushing the 10-year yield to a new 52-week low of 3.33% earlier this month.
The buying has eased and yields have recovered some, with the 10-year back above 2.5% and the 30-yield breaking through 4%, as investors pause for details about the Fed's announcement, which is expected at the conclusion of the central bank's two-day policy meeting Nov. 3, following election night.
"At this point, the market has priced in a moderate package in quantitative easing measures, on the order of $500 billion," said Kim Rupert, fixed income analyst at Action Economics. "But there's enough opposition within the Fed on the whole idea, which suggests that they might temper the initial size of the package."
That could leave investors unsatisfied, and spark a knee-jerk sell-off in Treasuries, pushing yields higher, she added.
"The Fed is trying to figure out how much they can afford to disappoint the market," said Rupert, adding that the Fed's ultimate goal with buying up assets is to drive interest rates lower. "To assuage the initial disappointment, they may leave the package open ended so that they can add to the amount if needed."
Even if traders are content with the Fed's plan of action on Wednesday, and yields drift lower, analysts question how effective the measures may be.
"The Fed is trying to avoid deflation and rapidly falling home prices that could lead to another housing dilemma," said Peter Cardillo, chief market strategist at Avalon Partners. "But even if you get rates to move lower, you're not reducing unemployment. And if people don't have enough income to buy a house, it doesn't matter where rates are."