Treasury yields slip as Fed announcement looms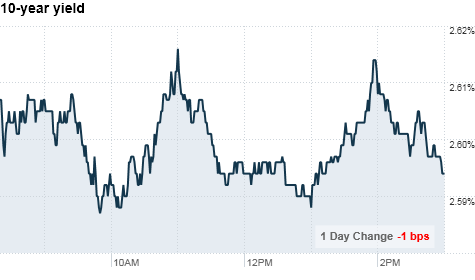 NEW YORK (CNNMoney.com) -- Treasury prices ended the session higher Tuesday as investors continued to anticipate another round of asset purchases from the Federal Reserve.
The advance came as Americans went to the polls to vote in the midterm Congressional election. Many investors expect the Republican party to gain control of the House, while the Senate is also in play.
While a shift to the right on Capitol Hill is generally seen as a positive development for Wall Street, traders said the market is mostly focused on Wednesday's policy statement from the central bank.
"It's primarily the outlook for the Fed that's got Treasuries buoyant today," said Kim Rupert, fixed-income analyst at Action Economics.
The Fed kicks off its two-day meeting with a highly anticipated policy statement due Wednesday afternoon. The central bank is expected to unveil a new round of asset purchases, as part of a wider quantitative easing plan.
Rupert said the consensus view in the market is for the Fed to announce plans to buy a total of $500 billion worth of Treasuries in $100 billion monthly increments. But she said the Fed is likely to keep its plans "open-ended."
The goal of quantitative easing is to put downward pressure on interest rates and pump money into the economy. It is also seen as a way for the Fed to combat deflation, a debilitating cycle of falling prices and demand.
However, some investors in the bond market are concerned that the Fed's efforts to juice the economy could lead to a bout of inflation in the years ahead. Rising prices can severely erode the value of fixed-income assets such as Treasuries.
"There are those who think the Fed's accommodative posture will push prices higher sooner rather than later," said Rupert.
The yield on the benchmark 10-year note fell to 2.6% from 2.63% late Monday. Bond prices and yields move in opposite directions.
The 2-year yield was little changed at 0.36%, while the 5-year yield eased to 1.16%.
The 30-year yield fell to 3.93% from 4.02% on Monday.