Republicans aim to undo health care law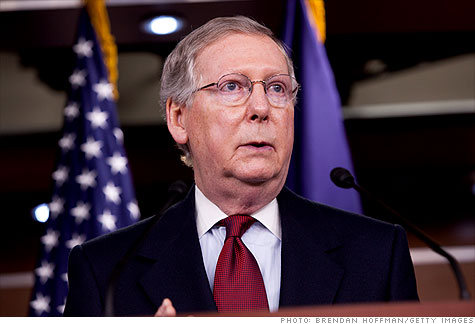 WASHINGTON (CNNMoney.com) -- Newly emboldened by his party's gains, Senate Minority Leader Mitch McConnell left no doubt about his first priority in the next Senate: repealing the health care law and getting a Republican in the White House.
"If our primary legislative goals are to repeal and replace the health spending bill, to end the bailouts, cut spending, and shrink the size and scope of government, the only way to do all these things is to put someone in the White House who won't veto any of these things," McConnell said in a speech Thursday to the Heritage Foundation, a right-leaning think tank.
McConnell targeted health care specifically. He acknowledged that it's unlikely the president would sign a repeal, so he laid out the next course of action for Republicans.
"We'll also have to work, in the House, on denying funds for implementation, and, in the Senate, on votes against its most egregious provisions," McConnell said.
During the height of the political campaign, GOP candidates had pledged that their first item of business would be repealing and replacing the health care law passed in March that would provide insurance to 30 million Americans without coverage.
Incoming House Speaker John Boehner promised on Wednesday to "do everything we can" to repeal the health care law.
But some Republicans have also quietly acknowledged that a complete repeal is unlikely given the political realities, chief among them President Obama's veto power.
Also complicating matters is the fact that parts of health care reform already in effect are pretty popular. Among them are provisions forcing insurers to cover children with pre-existing conditions and allowing parents to keep kids up to age 26 on their policies.
But McConnell's comments make it clear that Republicans will try to block any funding for new health care provisions, while working to reverse some of the provisions.
"Health care was the worst piece of legislation that was passed in my time in the Senate," McConnell said. "And the financial services bill is up there...close to it," he said, referring to the Wall Street reform measure that passed this summer.
Short of full repeal, the GOP is expected to attack pieces of the law, starting with a requirement forcing small businesses to tell the Internal Revenue Service about purchases over $600, which Republicans have declared a "job-killing" mandate.
The idea is to ensure that income gets disclosed to help generate more tax dollars that pay the cost of the reforms. But small businesses say the new rule is burdensome and Republicans want it repealed.
Several Democrats, including President Obama on Wednesday, have also talked about gutting that reporting requirement.
Republicans and Democrats also might consider repealing provisions that target Medicare, creating more than $500 billion in "savings" over the next decade. Those savings come from curbing the growth of Medicare costs and are key to holding down the price of extending health care to the uninsured.
Several experts suggested that another reform on the block could be the mandate requiring the uninsured to buy insurance. But President Obama is likely to veto such a move, and Republicans didn't win a large enough majority in the House to overturn it.