Buffett's Berkshire Hathaway earnings fall 8%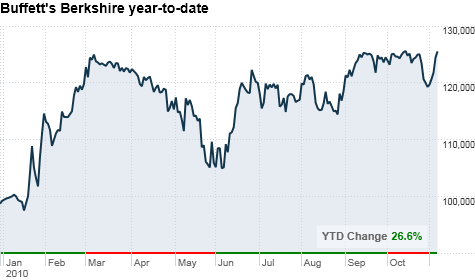 NEW YORK (CNNMoney.com) -- Warren Buffett's Berkshire Hathaway posted third-quarter earnings that fell almost 8% from a year ago, the company said late Friday.
The conglomerate reported quarterly net income of $2.99 billion, or $1,814 per Class A share, compared with $3.24 billion, or $2,087 per share, earned in the same quarter last year.
Berkshire' (BRKA, Fortune 500)s A shares were up 27% year-to-date as of Friday's close.
Berkshire's $95 million loss in the market value of its derivatives bets on stock market indexes and other financial instruments followed a gain of $1.13 billion a year ago.
Excluding its investment and derivative business, the Omaha, Neb.-based company booked operating earnings per share of $1,692, from $1,325 in the same period last year.
Berkshire's traditionally sparse earnings release did call out a bright spot: NetJets, a private jet operator, swung to a $158 million pre-tax profit in the first nine months of 2010, from a $531 million loss in the same period last year.
NetJets is one of Buffett's pet projects, and he handpicked David Sokol last year to turn around the failing company. Sokol got flak from internal NetJets managers for deep layoffs, but within a few months,Sokol reduced the company's debt from $1.9 billion to $1.3 billion. He also cut about $100 million in costs, enough to make operations profitable.
Book value: Buffett's "value investor" philosophy is based on investing in strong businesses, rather than short-term market fluctuations. He focuses on a company's book value, which is a measure of its worth at current market prices.
Berkshire's book value, which includes capital gains and losses whether they are realized or not, rose 7.5% to $90,823 per share.
Earlier this year, Berkshire made itself appealing to a wider investor audience by creating more affordable shares through its 50-for-1 stock split earlier this year. While its Class B shares (BRKB) once traded for more than $3,300 a share, they now run at about just $83 each and trade on the S&P 500 Index.