Stocks poised for early gains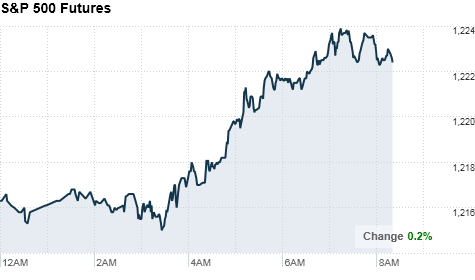 NEW YORK (CNNMoney.com) -- U.S. stocks were set to open with slight gains Tuesday, as gold prices hit another intraday record amid a weaker dollar. But with little to propel stocks in either direction, trading could be choppy.
Dow Jones industrial average (INDU), S&P 500 (SPX) and Nasdaq (COMP) futures were up ahead of the opening bell. Futures measure current index values against perceived future performance.
Investors are still adjusting to the Fed's QE2 announcement, said Tim Speiss, chairman of personal wealth at EisnerAmper. "Today we are going to be looking at the continued effect -- or not -- of QE2 on the U.S. and global economy," he said.
Investors are also playing it safe ahead of the G-20 meeting, which starts Thursday.
"I think the fact the U.S. has now announced QE2, it's going to put a spotlight on the troubled economies," Speiss said, noting that developing a plan of action to deal with the economies of Portugal and Ireland will be a primary focus of the G-20 meeting.
Stocks ended lower Monday, as investors took a step back from last week's run-up amid a lack of economic news and instead headed toward commodities -- resulting in gold surging to a record high on inflation concerns.
Economy: The only economic data expected Tuesday is a report on wholesale inventories, which comes out shortly after the opening bell.
Economists expect the Commerce Department report to show that inventories rose 0.6% in September, after a gain of 0.8% the month before.
Companies: Shares of Yahoo (YHOO, Fortune 500) rose more than 4% in premarket trading, following reports that a group of private equity investors had approached Alibaba Group chairman Jack Ma about joining a takeover bid. The report is the latest in a series of takeover and merger rumors involving Yahoo in recent weeks.
GE (GE, Fortune 500) announced a $2 billion investment in China through 2012. $500 million of the funds will be used to increase research and development, while $1.5 billion will be invested with joint ventures with Chinese state-owned enterprises. GE shares were little changed following the announcement.
Natural gas producer Atlas Energy (ATLS) said early Monday that it has agreed to be purchased by Chevron (CVX, Fortune 500) in a deal worth $4.3 billion. Atlas shareholders will receive $43.34 per share, in what is the latest deal in a string of large oil companies snapping up natural gas producers. Chevron shares were little changed in premarket trading, but shares of other natural gas producers like Cabot Oil & Gas (COG), Range Resouces (RRC), Chesapeake Energy (CHK, Fortune 500) and Southwestern Energy (SWN) all moved higher.
World markets: European stocks were gaining ground in morning trading. Britain's FTSE 100 rose 0.7%, the DAX in Germany ticked up 0.7% and France's CAC 40 grew by 0.8%.
Asian markets ended the session lower. The Shanghai Composite fell 0.8%, the Hang Seng in Hong Kong dropped 1.0% and Japan's Nikkei declined 0.4%.
Currencies and commodities: The dollar weakened against the euro, the British pound and the Japanese yen.
Oil for December delivery gained 26 cents to $87.32 a barrel.
Gold futures for December delivery rose $10.70 to $1,413.90 an ounce, after setting a new intraday record of $1,422.10. Gold prices settled at $1,403.20 an ounce Monday.
Bonds: The price on the benchmark 10-year U.S. Treasury edged higher, pushing the yield down to 2.53% from 2.56% late Monday.