10-year yield slips after Fed details bond buys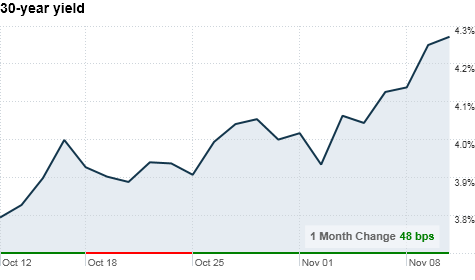 NEW YORK (CNNMoney.com) -- Treasury yields turned lower Wednesday following a 30-year debt auction and after the Fed released details about its initial purchases under its bond-buying stimulus plan.
The yield on the benchmark 10-year note fell to 2.65% Wednesday, while the yield on the 30-year bond fell to 4.24%. The 2-year note edged down to 0.42%, and the yield on the 5-year note slid to 1.21%.
The Fed said it plans to purchase approximately $105 billion in Treasuries over the next month, with $75 billion of those funds coming from the $600 billion infusion announced last week, and an additional $30 billion originating from proceeds of its earlier investments.
Last week, the Fed announced it would buy $600 billion in long-term Treasuries over the next eight months. However, the majority of those scheduled purchases will be of bonds in the 2-1/2- to 10-year range. Only 4% of Federal purchases will be of bonds between 17 years to 30 years in duration.
"The Fed told us they were going to be buying in the belly of the curve, rather than at the wings," Kim Rupert, fixed-income analyst at Action Economics explains. "That might limit demand for the 30-year [note], because the Fed isn't going to be a big buyer in that section of the curve."
On Tuesday, the 30-year note's yield closed at 4.25% -- its highest level since June 3, 2010. Since yields and prices move in opposite directions, Treasury prices for the note hovered lower Wednesday.
Auctions: On Wednesday the Fed auctioned $16 billion in 30-year notes, an offering that was met by almost $37 billion in bids. The bid-to-cover ratio for the auction was 2.31, the lowest level of demand since November 2009.
On Tuesday, the government offered $24 billion in 10-year notes at auction. The auction followed Monday's sale of $32 billion in 3-year notes.
Bond markets will be closed on Thursday for Veterans Day.