Few Black Friday bargains in retail stocks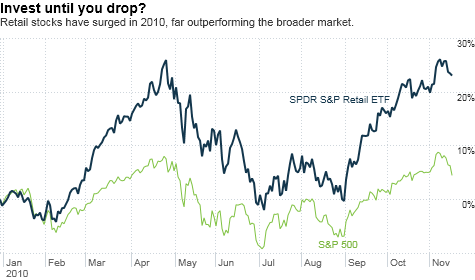 NEW YORK (CNNMoney.com) -- If you believe the stock market, the American consumer is healthier than they've been in years and ready to go on a major shopping spree during the holidays.
Retail stocks have been on a tear during the past few months and are vastly outperforming the broader market.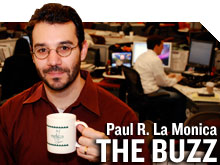 The S&P Retail ETF, which includes a diverse group of store owners such as JC Penney (JCP, Fortune 500), Tiffany (TIF) and Best Buy (BBY, Fortune 500) among its top holdings, is up 25% this year. The S&P 500 is up about 8% in 2010.
Retailers even held up relatively well on Tuesday while the overall market was taking a pounding on more worries about inflation in China and fiscal problems in Ireland and other debt-burdened European nations. As of the early afternoon, five of the top ten performing S&P 500 stocks were retailers.
The enthusiasm is somewhat warranted.
Several retailers, ranging from youth-oriented apparel makers Urban Outfitters (URBN) and Abercrombie & Fitch (ANF), to more mass merchandise chains such as Wal-Mart (WMT, Fortune 500) and Kohl's (KSS, Fortune 500), have recently reported decent quarterly profits and given solid outlooks for the rest of the year.
But with expectations for a strong Black Friday on the rise, it may be time to reevaluate whether the rally in retail is a bit overdone.
Yes, retail sales rose a fairly dramatic 1.2% in October, the government reported Monday. Still, much of that bump was due to auto sales.
Overall consumer spending is likely to increase at only a modest pace. And that's reflected in the revenue outlooks for many top retailers. Wal-Mart, for example, said Tuesday that it expects same-store sales to be in a range of down 1% to up just 2% in the fourth quarter.
Paul Nolte, managing director with Dearborn Partners, points out that one troubling sign is the fact that many retailers have been already touting big promotions in order to get people into their stores.
Nolte argues that if the economy were truly in better shape and consumers were really in a mood to spend more, such discounting wouldn't be as necessary.
"Sales aren't all that fabulous when you factor in all the price discounting. Many of the larger chains are announcing big sales earlier and earlier this year ahead of Black Friday," Nolte said.
Retailers also always run the risk of taking a hit to their already thin profit margins with "doorbuster" sales gimmicks. With that in mind, retail stocks may be too pricey now and investors should be wary of buying into the hype about the holidays.
Keith Springer, president of Springer Financial Advisors in Sacramento, Calif., said that he does think consumers will spend a fair amount on clothing, phones and other electronic gadgets during the fourth quarter. But he said that's already priced into many retail stocks.
Springer said the easy money in retail stocks probably has already been made. The challenge going into 2011 will be whether or not consumers will still be willing to shop until they drop after the holidays -- especially if economic growth remains stagnant.
Along those lines, a group of more than 40 retailers in the S&P 500 are currently trading at an average of 16 times earnings estimates for calendar 2011, according to data from Thomson Baseline.
That may not seem too bad at first blush considering that profits are expected to increase an average of 32% next year. But much of those earnings increases still seem to be more about cost-cutting to juice profits from low levels and less about actual consumer demand. Sales are only expected to increase an average of 7% next year.
"There may be an uptick in holiday shopping from depressed levels but not tremendous demand to propel sales forward past the fourth quarter," Springer said. "Expectations had been so low but now there may be little upside left for retail stocks."
And if you need any more evidence that retailers may not be the best bargains right now, look no further than the latest holdings data for Berkshire Hathaway (BRKB), the firm controlled by value investing king Warren Buffett. Berkshire disclosed on Monday that it sold its stake in Home Depot and CarMax (KMX, Fortune 500) in the third quarter.
I hate to sound like the Grinch just as the holiday shopping frenzy is about to begin, but shares of retailers may turn out to be the investing equivalent of coal in your stocking.
- The opinions expressed in this commentary are solely those of Paul R. La Monica. Other than Time Warner, the parent of CNNMoney.com, and Abbott Laboratories, La Monica does not own positions in any individual stocks.