Commodities bounce back on weaker dollar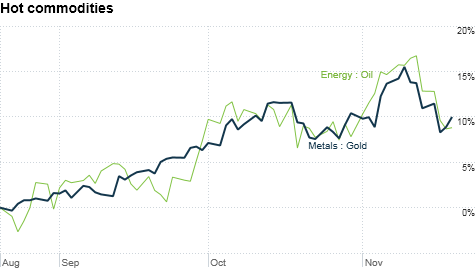 NEW YORK (CNNMoney.com) -- The high-flying commodities markets hit a patch of rough air this week, but analysts expect strong demand from developing countries will continue to support prices into next year.
Investors have been plowing money into gold, oil and other commodities since September on speculation that the Federal Reserve would pump more money into the economy. The Fed officially announced its $600 billion bond-buying program earlier this month.
But the months-long rally came into question earlier this week amid renewed concerns that Ireland's long-term debt problems could undermine the fragile European economy. Those fears eased Thursday after officials in Dublin signaled that the country is willing to accept aid from the European Union and International Monetary Fund.
Commodities were also pressured this week by signs that China will act to cool its red-hot economy, raising concerns about demand from one of the world's biggest consumers of raw materials. Oil prices plunged 2% on Tuesday after Chinese Premier Wen Jiabao said that the government is preparing steps to tame inflation.
James Cordier, president of brokerage firm Optionsellers.com, said short-term market drivers such as Fed policy and sovereign debt worries are "just noise," adding that an improved economic outlook is the main reason to be bullish on commodities.
"The global economy is doing extremely well right now," said Cordier. "In China, India and parts of Brazil, there are hundreds of millions of people who are looking forward to driving and consuming. That's going to continue to put upward pressure on commodity prices."
Prices for industrial metals were higher on Thursday, with copper gaining nearly 3%. Among agricultural commodities, corn and soy beans gained 3%, while wheat prices rose 2%.
Cotton prices, which have benefited from weather-related supply disruptions, rose about 3%. Cocoa and sugar also rose, while coffee prices declined.
After falling sharply Wednesday, oil prices rallied 1.7% to close Thursday at $81.85 a barrel. Gold prices also moved higher, rising $16.10 to end at $1,353 an ounce, as the U.S. dollar weakened against the euro and other more risky currencies.
The weak dollar tends to support prices for commodities that are priced in the U.S. currency. Many analysts expect the dollar to remain soft into next year as the Fed pumps money into the economy.
But Cordier said demand from developing nations will continue to boost commodity prices even if the dollar turns around. He said a strong dollar would also reflect improved economic conditions in the United States, which could signal stronger domestic demand.
"Even if the dollar is on firmer footing, I don't think that spells the end of a bull market in commodities," he said.