Salesforce.com soars 17% to an all-time high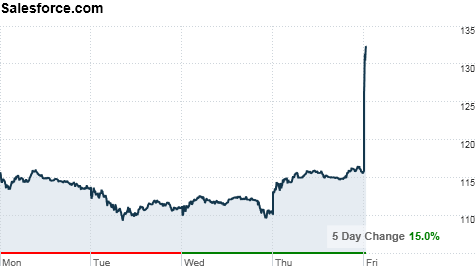 NEW YORK (CNNMoney.com) -- Shares of Salesforce.com soared to a record high Friday morning after the company delivered sales that far exceeded analysts' expectations and a bullish forecast for the current quarter.
Salesforce (CRM) rose 17% to an all-time high of $134.90 a share in morning trading.
Salesforce said late Thursday that its customer base grew by 28% compared last year in the quarter ended Oct. 31, and sales rose 30%. The San Francisco company provides hosted, "cloud" software for corporations, with a focus on customer relationship management (CRM).
The company expects the good news to keep on coming. Salesforce forecast that its revenue in the current quarter would be in the range of $447 million to $449 million. That's 5% above analysts' median estimate of $428 million, according to a survey conducted by Thomson Reuters.
Sales will come close to $2 billion in 2012, CEO Marc Benioff said in a prepared statement.
Salesforce continues to grow strongly abroad, even as other tech companies have reported weakness in foreign countries.
"The company is simply executing flawlessly into a huge market opportunity," Patrick Walravens of JMP Securities said in an analyst note. "The adoption of computing as a service is accelerating in other countries and Salesforce.com, as the largest computing as a service company, stands to benefit from this trend."