Stocks end with a bang after jobless claims drop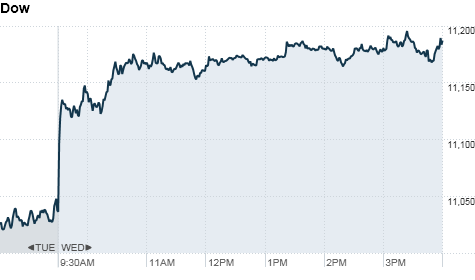 NEW YORK (CNNMoney.com) -- U.S. stocks rallied more than 1% Wednesday after a huge drop in unemployment claims signaled some signs of life in the depressed labor market.
"Other indicators will bump markets up and down, but employment continues to be the major focus," said Michael Gault, a senior portfolio strategist at Weiser Capital Management.
A drop in new home sales, a dour durable goods order report and ongoing worries about the eurozone couldn't stop the momentum.
"Right now the market is celebrating a better-than-expected jobless claims number," Gault said.
The Dow Jones industrial average (INDU) jumped 151 points, or 1.4%, the S&P 500 (SPX) rose 18 points, or 1.5%, and the Nasdaq (COMP) climbed 48 points, or 1.9%.
Gains were broad based, with all but three Dow components in the black. Boeing (BA, Fortune 500), United Technologies (UTX, Fortune 500) and American Express (AXP, Fortune 500) were among the biggest gainers on the blue-chip index. Tech stocks were also having a nice run with Amazon.com (AMZN, Fortune 500) and Sandisk (SNDK) logging big gains.
Stocks got slammed Tuesday -- with all three major indexes losing about 1.4% -- amid a trifecta of bad news: violence on the Korean peninsula, expanding concerns about Europe's debt crisis, and the Federal Reserve's bleak outlook.
The holiday-shortened week packed Wednesday's session with a full docket of economic reports, but trading is expected to be light -- and volatile -- with many on Wall Street taking a four-day weekend.
Financial markets will be closed Thursday and will close at 1 pm ET on Friday.
After the holiday, investors will be focusing on how retailers fare on Black Friday. It's considered the first shopping day of the critical holiday retail period, and a key barometer of how the next six weeks will pan out.
World markets: Global markets, which sparked Tuesday's sell-off, stabilized overnight as investors moved beyond Korea and welcomed a bailout package for Ireland.
European stocks closed sharply higher. Britain's FTSE 100 gained 1.4%, the DAX in Germany rose 1.8% and France's CAC 40 ticked up 0.6%.
Asian markets ended mixed. The Shanghai Composite gained 1.1% and the Hang Seng in Hong Kong rose 0.6%, while Japan's Nikkei dropped 0.8%.
But in the wake of a deal to rescue the Irish banking sector, attention is now shifting to Portugal and Spain, both of which are far from out of the woods.
"Global markets are appreciating the bailout as it stands right now, but they're not overly exuberant until they see what it means for other European countries that are in similar positions," said Gault.
Economy: Investors had a full plate of economic data to sort through Wednesday.
Jobless claims garnered the most attention. The number of Americans filing for unemployment benefits totaled 407,000 last week, according to the Labor Department. The Briefing.com consensus of economists had forecast 442,000.
"Encouragement is being taken from this jobless claims report," said Matt Kaufler, equity strategist at Federated Clover Investment Advisors. "While unemployment is still high, people are thinking that we've probably seen the peak and we're going to start a slow descent downward."
Another upbeat report came out after the market opened. The University of Michigan Consumer Sentiment Index rose to its highest level since June in its final reading for November. Economists had expected little change in sentiment.
Among other data, the Commerce Department reported a surprising decline in orders for durable goods for October.
The government said orders for items meant to last three years or more slipped 3.3%. Economists polled by Briefing.com had projected orders would increase by 0.4% in October.
The Commerce Department also released the latest data on personal income and spending. Personal income rose 0.5% in October, slightly outpacing the expected increase of 0.4% forecast by a consensus of economists.
Personal spending rose 0.4% in October, falling short of expectations, which called for a 0.6% increase.
After the start of trading, the Commerce Department reported that new home sales dropped 8.1% in October. Analysts had expected an increase. While the number of new homes on the market is 202,000, there's about a nine-month supply in the pipeline, at the current sales rate.
Companies: Business software maker SAP (SAP) said after Tuesday's close that it has been ordered to pay $1.3 billion to Oracle for copyright infringement by its now-defunct software maintenance unit. Oracle (ORCL, Fortune 500)'s stock rose 2%.
Deere (DE, Fortune 500), the tractor and lawn mower maker, reported earnings per share of $1.07, topping analyst expectations. Shares edged modestly lower.
High-end jewelry chain Tiffany & Co (TIF). reported earnings of 46 cents per share, topping the 37 cents expected by analysts. Shares of Tiffany gained 5%.
Currencies and commodities: The dollar rose against the euro and the Japanese yen, and was flat versus the British pound.
Oil for January delivery rallied $2.61 to settle at $83.86 a barrel.
Gold futures for December delivery fell $4.60 to settle at $1,373 an ounce.
Bonds: The price on the benchmark 10-year U.S. Treasury dropped, pushing the yield up to 2.92% from 2.76% late Tuesday.