TSA officers 'desperate' to unionize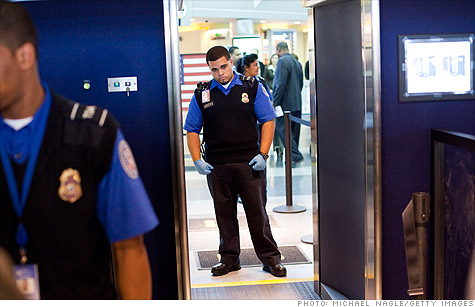 NEW YORK (CNNMoney.com) -- With many of them stifled by part-time pay and unpleasant airport pat downs, officers for the Transportation Security Administration are trying to unionize.
"These are people who desperately need a union," said John Gage, president of the American Federation of Government Employees, which has 600,000 members from different federal agencies. "We want a union and we want collective bargaining rights."
The 40,000-plus officers with the TSA could be voting to unionize in the next few months, according to both Gage and Dina Long, spokeswoman for the rival union, the National Treasury Employees Union, which has 150,000 members.
"There are 43,000 employees in the TSA workforce and they have been excluded from basic workplace rights including collective bargaining rights," said Long. "Administrator [John] Pistole is reviewing whether these employees will be granted collective bargaining rights."
TSA workers have been at the focal point of the controversy surrounding the agency's new tighter passenger screening rules. They are the ones, at select high-traffic facilities, administering enhanced body scans or -- for those passengers who decline the scan or set off alarms -- pat downs.
Collective bargaining is usually the way unions hash out their contracts with employers, generally focusing on better pay and benefits whenever a contract is up for renewal. It's not quite that simple with federal employees, however, because Congress decides whether they'll be receiving a pay increase or better benefits.
"We represent our workers in Congress; that's where our pay and health benefits are set," said Gage. "We'll testify and lobby, and try to improve our pay and benefit through political action, not through an employer."
The annual starting pay for TSA officers is usually about $29,000. Part-time TSA officers often make about $14 per hour.
Union representatives hope that unionizing the TSA workers will help them achieve a better system for determining pay increases and improve the current system, which relies heavily on part-time workers. Many of the new officers for the TSA are required to work part-time for two years or more before being considered for full-time.
"Most of them cannot survive on part-time pay with TSA," said Claude Newton, a retired TSA officer supervisor who now works for the National Treasury Employees Union. "Most of the officers are having to go out and get second and third jobs. Even some of the full time TSO officers are having to go out and get second jobs."
The TSA was not immediately available for comment.