Stocks set to dip on Bernanke comments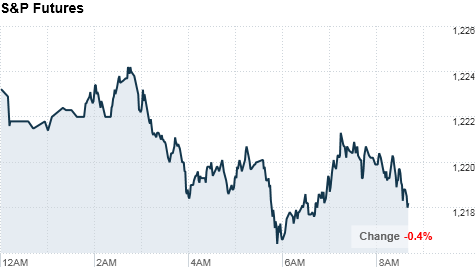 NEW YORK (CNNMoney.com) -- U.S. stocks were poised to fall at the opening bell Monday after Fed chairman Ben Bernanke gave a pessimistic outlook about the nation's economy.
Dow Jones industrial average (INDU), S&P 500 (SPX) and Nasdaq (COMP) futures were all down slightly. Futures measure current index values against perceived future performance.
Stocks ended higher late Friday as investors moved beyond a report that showed U.S. job growth in November was much slower than expected. Despite the lousy jobs data, stocks rallied for the week. All three major indexes ended more than 2% higher.
Federal Reserve Chairman Ben Bernanke, in an interview on CBS' 60 Minutes that aired Sunday, said it could be four or five years before the economy is back to a normal unemployment rate.
Bernanke also said that fears of inflation are overstated, and that the central bank could resort to another round of stimulus by buying up Treasuries.
But Tom Winmill, portfolio manager at Midas Funds, said that it it unsettling to hear that it could be four or five years before the unemployment rate is back to a healthy level. Winmill said it will keep a weight on markets in the short term.
Investors are also looking at talk about a deal involving the Bush-era tax cuts. The reported agreement would extend the cuts for all incomes for two years and would permit the unemployed to file for extended jobless benefits -- a program that expired last week.
Companies: Drug maker Pfizer (PFE, Fortune 500) announced a management shake-up, replacing CEO Jeffrey Kindler with Ian Read, who had been heading the company's global biopharmaceutical operations. Pfizer shares eased in premarket trading.
AOL (AOL) is exploring a break-up of the online services company that could lead to a merger with Yahoo (YHOO, Fortune 500), according to a Reuters report citing sources close to the plans. Shares of Yahoo and AOL were up slightly in premarket trade.
Kellogg (K, Fortune 500) CEO David Mackay announced that he plans to retire as president effective Jan. 1. The cereal named chief operating officer John A. Bryant to succeed Mackay.
A key shareholder of Borders (BGP), hedge fund manager William Ackman of Pershing Square Capital Management, said he is ready to finance a takeover bid for Barnes & Noble (B) for $16 per share, according to a regulatory filing. The news sent shares of both Borders and Barnkes and Noble surging 18% in premarket trade.
World markets: European stocks were mixed in early trading. Britain's FTSE 100 edged up 0.2%, the DAX in Germany lost almost 0.1% and France's CAC 40 was down 0.4%.
Asian markets ended the session mixed. The Shanghai Composite added 0.5%, the Hang Seng in Hong Kong shaved 0.4%and Japan's Nikkei lost 0.1%.
Currencies and commodities: The dollar was stronger against the euro, the Japanese yen and the British pound.
Oil for January delivery lost 22 cents to $88.97 a barrel after reaching as high as $89.76. Oil prices have been hovering at 2-year highs.
Gold futures for December delivery was $8.60 higher at $1,414.80 an ounce, after reaching a fresh intraday high of $1,420. On Friday, gold futures settled at a record high as the U.S. dollar slid following a surprisingly weak report on the nation's job market.
Winmill said he was expecting gold prices to pass $1,400 by the end of this year and that gold could hit $1,600 by the end of 2011.
Bonds: The price on the benchmark 10-year U.S. Treasury rose, pushing the yield down to 2.96%.