Businesses racing against the tax clock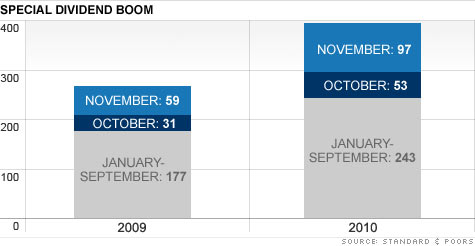 NEW YORK (CNNMoney.com) -- Special dividends, or one-off payments to shareholders, usually get a nice spike during the final months of the year but 2010 was especially active as companies worried about the possibility of higher dividend tax rates for individuals next year.
Last month, nearly 100 companies declared special dividends to be paid out before the end of the year. That's the highest since 2004, when Standard & Poor's began tracking the data. And it comes on top of the 53 companies that announced special dividends in October -- also the highest on record.
The pace continued to pick up during the first week of December, with companies like Brown-Forman (BFB), maker of Jack Daniels and Southern Comfort, retailer Express (EXPR), and telecom equipment firm Sycamore Networks (SCMR) joining the roster.
Experts had already been anticipating a boom in dividend activity thanks to record amounts of cash on corporate balance sheets. But the onslaught was further stoked by worries that a number of tax cuts that were implemented in 2001 and 2003 would expire Dec. 31.
On that list is the current dividend tax rate of 15% that could spike to almost 40% for the highest earners if Congress fails to seal an extension deal.
Earlier this week, President Obama reached a compromise with Republicans to extend all of the Bush-era tax cuts for another two years, though it's not a sure thing until Congress gives its stamp of approval.
"If companies are planning to pay a dividend anyway, they're looking carefully at their schedules and deciding whether to move up their payouts before the first of the year in case Congress doesn't act in time," said Howard Silverblatt, S&P senior index analyst.
That's what Wynn Resorts (WYNN) and movie theater chain Regal Entertainment (RGC) did, said Chad Beynon, a Macquarie Capital analyst who covers both companies.
"Both companies had a capital structure in place to a point where they were comfortable giving back to shareholders," Beynon said. "But the timing of paying the dividend was pulled forward based on the chance that shareholders could face higher tax rates."
Interestingly, shareholders at many of the companies accelerating their payouts include the top executives or other major investors, noted corporate tax expert Rob Willens.
Wynn Resorts' CEO Stephen Wynn and his wife Elaine each own 8% of the company, while billionaire Philip Anschutz has a 44% stake in Regal Entertainment.
Progressive's board chairman Peter Lewis owns 7% of the car insurance giant, which recently announced an extra $1.00 cash dividend on top of its annual variable dividend.
If the possibility of higher rates wasn't such a hot button issue, Macquarie's Beynon said the companies may have waited until the first or second quarter of 2011.
Village Super Market (VLGEA), which operates about 25 ShopRite stores in New Jersey and Pennsylvania, said its board declared a special dividend of $1.25 per share in early December "in order to provide a return to our shareholders in 2010, instead of 2011, while tax rates on dividends remain low."
Seaboard Corporation (SEB), announced a dividend of $6.75 during the hours leading up to the news of President Obama's compromise with the GOP. The agriculture and transportation company typically makes a quarterly payout of 75 cents per share.
In order to reap the most favorable tax benefit, Seaboard said it was combining its regular fourth-quarter payment with the anticipated dividends of 2011 and 2012. The company said it does not intend to declare any further dividends during the next two years.
Some corporations, including White River Capital (RVR) and optionsXpress Holdings (OXPS), opted to take out loans to make their dividend payouts before the end of the year.
"It's not unusual to fund dividends by borrowing, and given that interest rates are at historically low levels, it makes even more sense and is a very astute move," said Willens.
And if it looks like Congress is dragging its feet, there may be even more special dividends rolling out.