Stocks end listless session mixed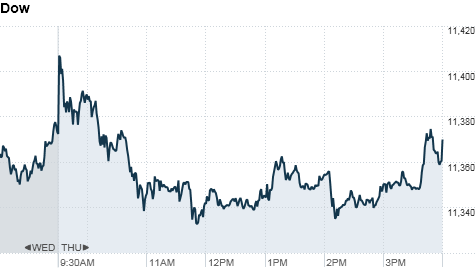 NEW YORK (CNNMoney.com) -- Stocks ended mixed Thursday as a stronger dollar dragged on commodity-related companies, while financials and tech shares firmed.
The Dow Jones industrial average (INDU) fell 2 points, or less than 0.1%, to end at 11,370. The S&P 500 (SPX) gained 5 points, or 0.4%; to 1,233. The tech-heavy Nasdaq (COMP) rose 7 points, or 0.3%, to 2,617.
Bank of America (BAC, Fortune 500) and JPMorgan (JPM, Fortune 500) were among the best performers on the Dow, adding to the previous session's gains. Bank stocks had lagged the broader market earlier this year, but investors are regaining some appetite for financials as economic conditions improve.
DuPont (DD, Fortune 500) was the Dow's weakest component, falling 1.3%. The chemical company issued a 2011 outlook that disappointed investors. Consumer stocks McDonald's (MCD, Fortune 500) and Johnson & Johnson (JNJ, Fortune 500) also tumbled.
Stocks opened modestly higher after government data showed an improvement in the number of jobless claims being filed. But the momentum faded as a stronger dollar pressured commodities prices, and weighed down shares of companies like Boeing (BA, Fortune 500) and 3M (MMM, Fortune 500).
"In the absence of any major economic news -- we're listing a little bit," said Mark Luschini, chief investment strategist at Janney Montgomery Scott. Investors are also awaiting the final word from Washington on the extension of Bush-era tax cuts for those making more than $250,000 a year, he added.
House Democrats voted Thursday against considering the tax package, which would also extend unemployment benefits and create a payroll tax holiday.
The choppy trading Thursday follows a big advance last week, which pushed the Dow and S&P 500 near their highest levels in two years.
"Considering the rally last week, we're seeing some consolidation, which isn't surprising," said Abigail Doolittle, founder of Peak Theories Research. But she added that the market "is very much driven by the dollar."
The dollar index, a gauge against a basket of currencies, edged up to 80 from 79.9. The stronger dollar weighed on oil prices, but gold defended modest gains.
Investors were also keeping an eye on the Treasury market, where yields have spiked this week amid an improved economic outlook, as well as concerns about inflation and the U.S. budget deficit.
On Wednesday, stocks managed to eke out gains as a rebound in bank shares offset concerns about rising interest rates in the Treasury market.
Economy: The number of people filing for initial jobless claims fell 17,000 to 421,000 in the latest week, from 436,000 the previous week, the Labor Department said in its most weekly jobless claims report. Economists had expected the number to decrease to 429,000.
Initial unemployment claims help give a read on the labor market. "But this time of year it tends to be pretty choppy, and that is due to difficulties in the seasonal adjustments," said Scott Brown, chief economist at Raymond James. "The numbers can really jump around week to week." He said the focus should remain on the four-week moving average, rather than the weekly gains or losses.
The four-week moving average, which is calculated to smooth out volatility in the data, fell by 4,000 to 427,500.
Separately, the Commerce Department said wholesale inventories rose 1.9% in October, following a revised 0.6% increase for September. The October gain was much larger than the 0.7% gain economists had expected.
Companies: Shares of AIG (AIG, Fortune 500) jumped 13% after the insurance giant finalized the terms of the latest restructuring of the giant insurer's federal bailout.
Howard Stern announced that he has re-signed with SiriusXM (SIRI) Radio for five years, sending Sirius' stock rising 6.5% in early trade.
Tech giant Dell (DELL, Fortune 500) made a bid for Compellent Technologies Inc. (CML) for $27.50 a share -- well below the $33.65 per share the data storage company closed at on Wednesday. Shares of Compellent fell 14%, while shares of Dell were little changed.
Freeport- McMoRan (FCX, Fortune 500) announced plans to pay a special dividend of $1 per share this year. The copper and gold producer also declared a two-for-one split of its common stock.
Shares of Lululemon Athletica (LULU) jumped 14%, after the Canadian maker of yoga apparel said net income in the third quarter doubled to $42.4 million.
After the market closed, Green Mountain Coffee (GMCR) reported fourth-quarter net income of $27 million, or 20 cents per share, up from $14.1 million, or 11 cents per share, in the same period last year. Analysts had expected earnings per share of 20 cents, according to estimates from Thomson Financial.
But shares of Green Mountain fell nearly 10% in after-hours trading as investors reacted to the company's outlook for next year. Green Mountain lowered the bottom end of its forecast range by 3 cents, citing "expected volatility in coffee prices and flexibility to support anticipated new product launches."
Currencies and commodities: The dollar rose against the euro and the British pound, but fell slightly against the Japanese yen.
Oil for January delivery rose 9 cents to settle at $88.37 a barrel.
Gold futures for February delivery edged up $9.60 to close at $1,392.80 an ounce.
Bonds: The yield on the 10-year Treasury note eased to 3.22% from 3.25% late Wednesday as prices rose. The 10-year yield hit a high of 3.33% on Wednesday, up 36 basis points from Monday, marking the biggest two-day gain since September 2008.
But prices rebounded after the U.S. sold $13 billion in re-opened 30-year bonds. It was the last of three auctions this week totaling $66 billion in 3-, 10- and 30-year Treasuries.
World markets: European stocks were mixed. Britain's FTSE 100 rose 0.2% and France's CAC 40 gained 0.7%, while the DAX in Germany fell 0.2%.
Asian markets also ended the session mixed. The Shanghai Composite shaved 1.3%, the Hang Seng in Hong Kong added 0.3% and Japan's Nikkei gained 0.5%.