Stocks end choppy session mixed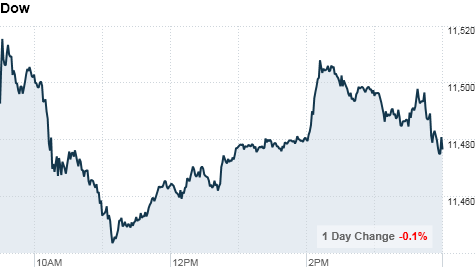 NEW YORK (CNNMoney.com) -- U.S. stocks seesawed between small gains and losses Monday but remained in a narrow range at the start of a holiday-shortened week, as investors began to shift their focus to 2011.
The three major indexes closed on either side of the breakeven point. The Dow Jones industrial average (INDU) fell 14 points, or 0.1%, with about 13 of the 30 companies in the blue-chip index in the red. American Express (AXP, Fortune 500), Boeing (BA, Fortune 500) and Wal-Mart (WMT, Fortune 500) were the biggest laggards.
The S&P 500 (SPX) rose 3 points, or 0.3%, to close at the highest level since September 2008. The tech-heavy Nasdaq (COMP) added 7 points, or 0.3%, and finished at the highest level since Dec. 31, 2007.
The three major indexes have been rising to two-year highs during the last few weeks, since President Obama announced the compromise deal on the Bush-era tax rates. Last Friday, the president signed a tax-cut plan into law.
"We've had a pretty good move up in the market that now needs to be digested," said Rob Lutts, chief investment officer at Cabot Money Management. "The market is going through its natural process of backing up a bit."
With many investors getting ready to close their books and escape their desks for the holidays, Lutts expects stocks will continue to trade in a tight range.
"Unless there's any unexpected news, markets should fall into a holding pattern and remain fairly quiet through the holiday period," he said.
Stocks have risen about 5% this month, and are poised for double-digit gains for the year. Investors are already looking ahead to 2011 -- and many have pretty bullish outlooks for the new year.
World markets: European stocks ended higher. Britain's FTSE 100 rose 0.3%, while the DAX in Germany and France's CAC 40 gained 0.5%.
Tensions on the Korean peninsula were escalated after Seoul's planned live-fire drill. North Korea said the drill could spark retaliation, but the country did not act immediately on Monday.
Asian markets ended the session lower. The Shanghai Composite sank 1.4%, the Hang Seng in Hong Kong lost 0.3% and Japan's Nikkei fell 0.9%.
If North Korea levies a full-scale response and starts a war, markets might have a more significant response. "It really depends on how much of Southeast Asia gets involved with this -- where Japan falls in and where China falls in," Russell said.
Companies: E-commerce company eBay (EBAY, Fortune 500) said it has reached a deal to purchase brands4friends.com -- Germany's largest online shopping site -- for about $200 million. "The move is designed to strengthen eBay's position as a leading online fashion destination in Europe," the company said in a written statement. Shares of eBay fell 0.8%.
Consumer food and beverage company Sara Lee Corp. (SLE, Fortune 500) is in talks to sell itself to a Brazilian meat-processing giant JBS SA, according to reports. The companies are sparring over price, however, stalling the deal. Shares of Sara Lee rose 2.5%
AT&T (T, Fortune 500) shares slipped 0.3% after the company said it will pay $1.93 billion for spectrum licenses from Qualcomm (QCOM, Fortune 500). AT&T said the move will bolster its 4G service.
After the closing bell, Adobe Systems (ADBE) reported a profit of $269 million, or 53 cents per share, compared to loss of $32 million, or 6 cents per share, during the same period a year earlier.
The San Jose-based company sales jumped 33% to just over $1 billion during the quarter. Analysts expect the company to report earnings per share of 52 cents on revenue of $988 million. The tech giant also delivered an upbeat forecast.
Shares of Adobe were up almost 7% in after-hours trading.
Currencies and commodities: The dollar fell against the Japanese yen, but edged higher against the euro and the British pound.
Oil for January delivery rose 79 cents to settle $88.81 a barrel.
Gold futures for February delivery rose $6.90 cents to $1,386.10 an ounce.
Bonds: The price on the benchmark 10-year U.S. Treasury edged up, pushing the yield down to 3.34%.