Top money-making concerts of the year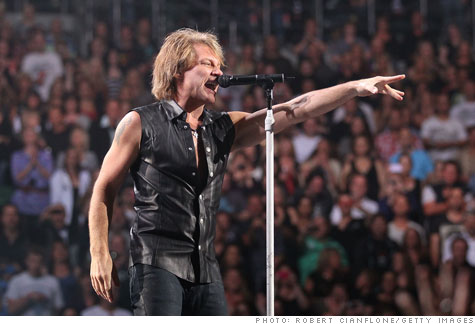 NEW YORK (CNNMoney.com) -- This year marked the year Lady Gaga showed up in a meat gown to MTV's Video Music Awards and country singer Taylor Swift sang breakup songs to Twilight actor, Taylor Lautner. Also in 2010, John Mayer threw in the towel with social networking site Twitter as teens around the world were struck with "Bieber fever."
But despite the revolution of pop music, a recent poll awards the No. 1 money-making concert tour of the year to an old favorite: Bon Jovi.
Pollstar, a trade publication that covers the concert industry globally, released a North American poll ranking the top-grossing concert tours of 2010, as well as worldwide rankings. Bon Jovi took the top spot in both polls.
According to Pollstar, the rock legend made $109 million in the United States and a total of $201 million around the world -- playing 80 shows in their global tour.
Second place in the North American poll was a tie between Roger Waters and AC/DC. Since going back on tour in 2008, AC/DC put on a total of 40 shows around the world, grossing $177 million. Waters made nearly $90 million, playing in 35 cities.
According to the rankings, the top 50 tours around the world took in a total of $2.93 billion -- down about 12% from last year. A total of 28.3 million tickets were sold, down 7% from last year; and the average ticket price increased $2.86, or about 4%.
The remaining top 10 North American tours include Dave Mathews Band, Paul McCartney, Michael Bublé, Eagles, Lady Gaga, James Taylor/Carole King, The Black Eyed Peas and John Mayer.
The top five money-making concerts around the globe were Bon Jovi, followed by AC/DC, U2, Lady Gaga and Metallica.