Treasuries start the year lower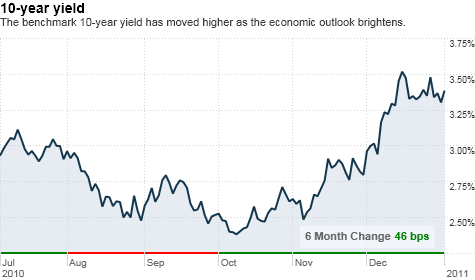 NEW YORK (CNNMoney) -- It may be a new year, but U.S. Treasury prices are picking up right where they left off in 2010 -- lower.
Treasuries got a year-end boost during a holiday-shortened trading session Friday. Prices had trended sharply lower during the second half of 2010, as the economy showed signs of improvement and stocks gained momentum.
Stocks and bonds tend to move in opposite direction. When investors feel more confident about the economy, they are more willing to shift into riskier, and higher yielding, assets.
The downward slide in Treasury prices continued Monday as traders remained bullish about 2011, and the first trading session of the year kicked off with a strong report on manufacturing activity.
"We're seeing follow-through from the sentiment we saw at the end of the year, about a more positive economy and a rosier outlook," said David Coard, head of fixed-income trading at Williams Capital Group.
As stocks jumped, the price on the benchmark U.S. Treasury 10-year note fell -- pushing the yield up to 3.35%, from 3.30% late Friday. Bond prices and yields move in opposite directions.
Yields for the 30-year bond rose to 4.41% from 4.33%, while the 2-year note ticked up to 0.61% from 0.60%. The 5-year note climbed to 2.02% from 2.01%.
Looking forward: While Treasury yields are likely to continue rising in 2011, they could remain in a tight range in the first quarter -- with the 10-year note hovering between 3.25% and 3.65% -- until investors gain a clearer picture of the economic recovery.
Some cues will come from the government's closely-watched jobs report due Friday, Coard said.
Economists expect the report to show employers boosted payrolls by 132,000 last month, following a 39,000 gain in November. Also happening on Friday, Federal Reserve Chairman Ben Bernanke is scheduled to testify before the Senate budget panel. Coard said traders will be listening for an update on the health of the economy.
"The economy seems to be on solid footing, but the labor picture is key, so we have got to start hiring people to really have sustainable growth in the economy," Coard explained.
If the jobs picture weakens, or if other economic data reverse direction, or more overseas debt issues arise -- yields could be in store for a correction, he warned.